Dear Khadas Community,
As our Veteran Members will know, the traditional Chinese Spring Festival is once again upon us, and Khadas Team will be leaving Shenzhen to return to our hometowns and our families from 19th Jan to 1st Feb 2020.
It has been almost 3 years since we launched our 1st product, the Khadas VIM1. Time flies, and our team continues to grow, with the A311D VIM3 being launched last year.
We know that we have to thank all users who have chosen to use our Khadas products, developers who commit to building better OS images, and the guys who always help us to run the Khadas Forum.
And so, it is time once again for the KFCI!
For New Community Members:
The KFCI (Khadas Forum Contribution Index) is a measure of one's contribution to our Khadas Community, and is a set of data recorded for all forum users.
How to See Forum Statistics:
Find the hamburger icon at the upper-right corner (to the left of your avatar).
Click "users", to go to the users page.
Choose the option "year" to show the contribution statistics for this past year.
How to Calculate Your KFCI:
Received x 100
Given x 2
Topics x 10
Replies x 5
Read x 1
For example, my KFCI is 773 x 100 + 910 x 2 + 27 x 10 + 480 x 5 + 5400 x 1 = 87190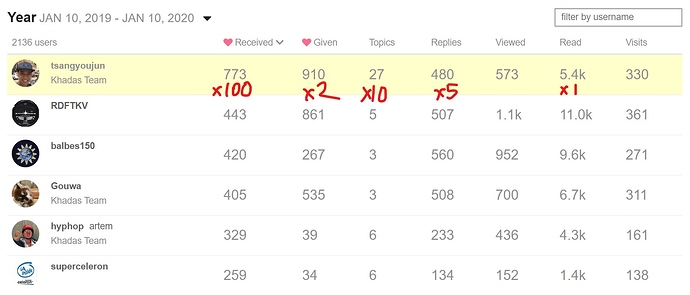 Bonuses for the Top 10 KFCI winners:

1st Place: $500 USD cash and Khadas Shop Voucher valued at $100
2nd to 3rd Place: $100 USD cash and Khadas Shop Voucher valued at $100
4th to 10th Place: Khadas Shop Voucher valued at $100
Note: We will add all the winners into a private group to disburse the Khadas Shop Vouchers and cash rewards! (Khadas staff are unable to receive KFCI awards)
Gift Voucher Usage:
The Khadas Shop Voucher can be used to buy all Khadas products, such as:
VIM3L/3/2/1 SBC Boards
Edge/Edge-V SBC Boards
Tone Boards (Generic/VIM Editions)
New VIM Heatsink
Edge Heatsink
3705 Cooling Fan
M2x Extension Board
DIY Cases
Other Accessories
Suggestions & Feedback:
We know that we still have a lot more to do for 2020. Please kindly give us your feedback, and we will attentively listen to all voices here in our forum. Some examples of improvements made in 2019:
Let's move forward, together!
And finally, Happy Chinese New Year!
新春快乐!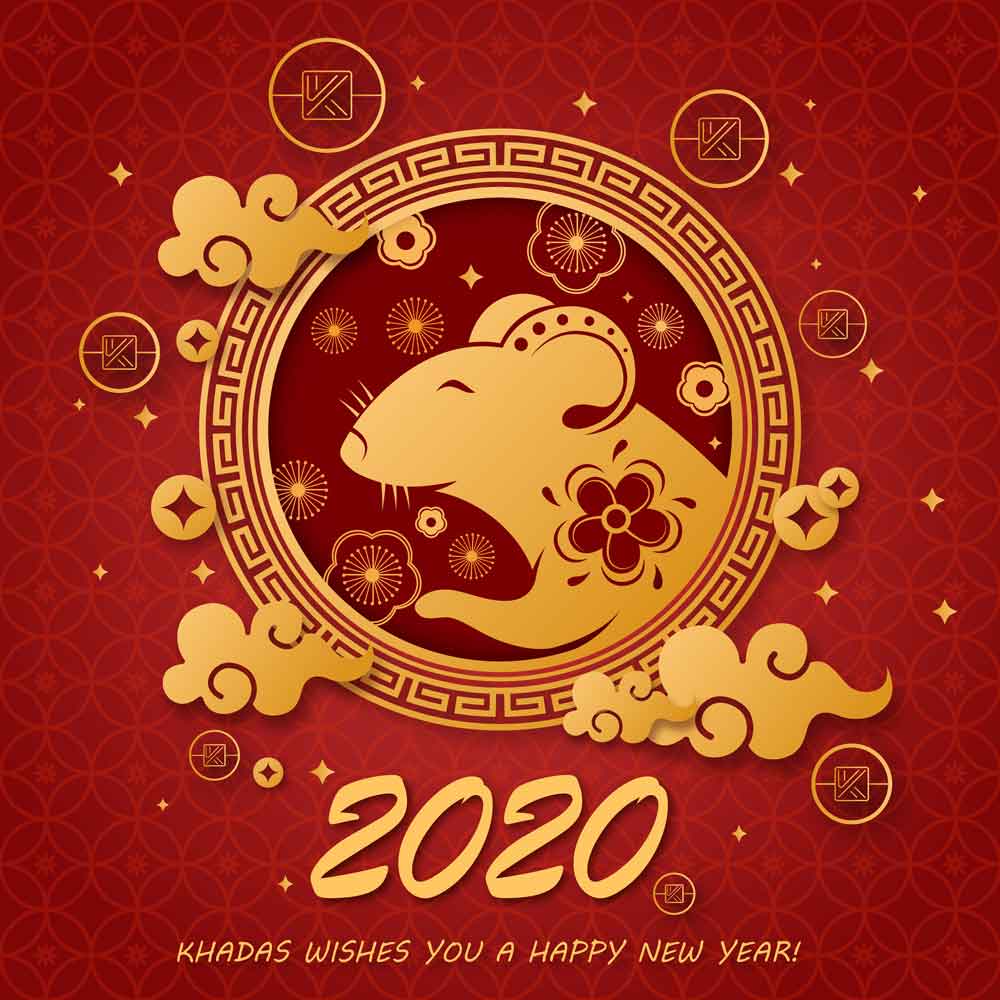 Warmly,
Khadas Team
---
Past KFCI Awards: