Well, yet another DIY project from me and now it is time to turn Khadas SOC board into to power AudioDSP :-). An idea of this project is try to build Guitar Amplifier / Cabinet emulator with various effects using neural networks and deep-learning. Good to know that it can be hardware accelerated as Amlogic SOC has a built-in NPU module.
I was inspired by the following article
and couple of project build around it https://github.com/GuitarML
However, in that projects RaspberryPI 4 was used and we have Khadas SOC.
This DIY project is pure experimental and this project journey seems to be pretty hard but I still I'll get something working and valuable at the end. I'll have to learn a lot as I'm pretty noob in Neural networks programming and deep-learning.
So I've ordered some details (and Khadas free sample for VIM3) and came out with the following to do plan: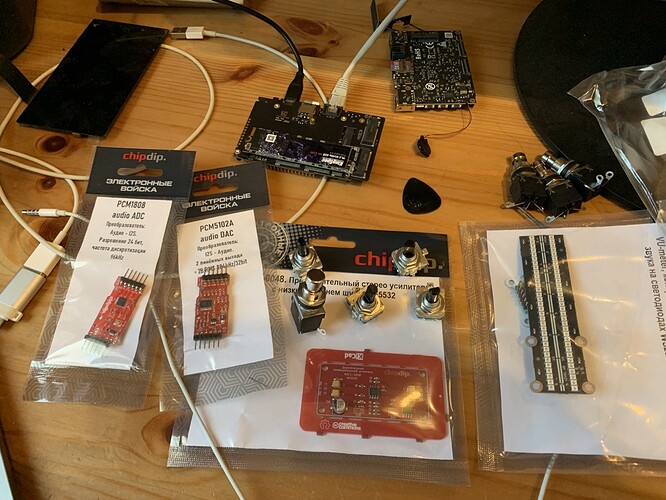 1/. Arrange all basic schematics - preamp, ADC/DAC section (at the moment I decided to stick with PCM chips as starting point), VU meter - should be pretty easy to make that.
2/. Develop microcontroller code to handle all Knobs/Switches/Encoders - usually should something build on Atmel microchips - ATMega328/128
3/. Port Xenomai/EVL dual linux kernel - to get realtime kernel capabilities. I'll cover some things about realtime kernels in a next post.
4/. Rewrite Amlogic SOC sound subsystem drivers to be capable handle RT work - that's gonna be hard piece of work
5/ Adopt realtime libraries from Elk.Audio projects (RASPA and TWINE) https://github.com/elk-audio
6/. Port headless DAW software from Elk too (Sushi and Sensei)
7/ Develop Neural Network model for AMP/CAB simulation and try to make it run on Amlogic NPU (a bit of worries here - don't know if we could get a realtime handling here)
8/ Develop some extra VST plugins (Impulse Response Cab simulator) with JUCE framework
9/ Develop a body for all of that in CAD/CAM software and 3D print…
10/ If time permit - start to add extra functionality like Midi-over-Ethernet to control all parameters and etc…
Don't like long to do list… 10 points usually tends to be enough.
To be continued…