ok. tanks. i contine in 9.2, more safe

That's your choice, of course. This tool allows you to run CoreELEC from emmc while keeping android also.
Team CoreELEC ceemmc tool. Dual system and dual boot in EMMC memory on VIM3 pro. Team CoreELEC posted it here:

let's go !!!
Benchmark
CoreElec in EMMC memory, wow, cool result!
I listened to my favorite music and watched a movie.
And now Android, ROM is superceleron normal v.3, it took 10 seconds to switch to its system from CoreELEC! The system is ready to go! Two systems installed in VIM3 memory took up 11 GB of space

How to change back booting from android to Coreelec?
3705 Cooling Fan: pity fan
It does not work with CoreElec.
It makes a huge noise.
In android it has 3 positions: off. low and high. It doesn't make noise off, low enough and loud it seems that a plane is going to take off.
And all that for the modest € 15.
Coreelec turns on quickly, Android turns on second, you can't change this sequence.
If you are just using CE on the VIM3 then you should get by without the noisy cooling fan. Disconnect it and monitor your temps - experience says they shouldn't climb above 50C.
Shoog
i want use a cooling fan


why loose 15 € ?
The cooling fan is inherently a bad choice since squirrel cage fans are significantly noisier than axial fans.
It maybe that as things develop the CE team might add speed control - but meanwhile the best option is to disconnect.
Shoog
I'll listen to you then,
I'll put a solid heatsink that I had already bought
--------->WHAT MEAN THIS?
A fan is fairly essential for the VIM1 and VIM2, but the VIM3 is 12nm and runs much cooler.
Shoog
in terms of a fan I agree, you need ear plugs to it

-------------------------->sorry

<-------------------
Anybody reinstalled CoreElec on the Vim3L model?
Its a special build so be careful which one you choose.
Shoog
In my khadas Vim3L (arm S905D3) seller pre-installed CoreELEC 9.2., but the description indicates Amlogic-ng

if you go to the site CoreELEC and try to download the update (not the initial installation) 9.2.1. there will be a choice of two groups of architectures Amlogic ("Amlogic" update file for all S905/S912 devices) and Amlogic-ng ("Amlogic-ng" update file is only compatible for S905X2/S922X/A311D devices currently) apparently mixed up architecture, it's amazing how this device works (the system CoreELEC 9.2 works very, very slowly… I can press the remote control more than ten times before something happens. Some applications are not installed and the screen resolution does not match … but the system works :), bad and disgusting, BUT it works!!!

).
It clearly states not to use 9.2.1 on the CE website, maybe you missed this?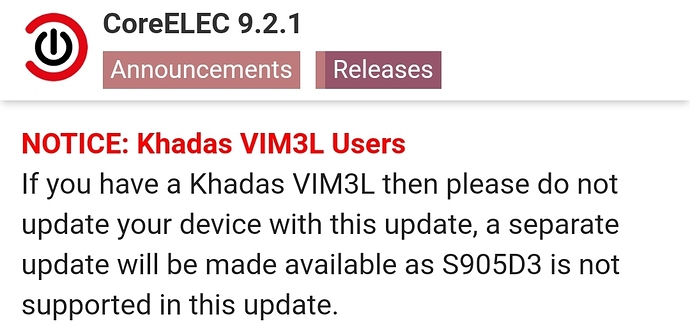 I also posted reinstall instructions here.
The preinstalled image is closer to 9.2.1 than it is to 9.2.0 and it runs no slower than it does on a VIM3.
If your having issues with the remote then I would suggest switching to an amremote config as it's much faster than meson-ir, all information is in the CE forums.
So it appears you didn't read the install instructions and messed up your device ( I warned you ). Poor you

Shoog