hello, used usb burn tool to install ubuntu server on my vim2, after complete it wont start… help

Hello, Which Ubuntu server image did you use? Please link to image.
VIM2_Ubuntu-server-bionic_Linux-4.9_arm64_EMMC_V20191231
I flashed the image to my VIM2(ver 1.2), using the USB Burning Tool(ver 2.2.0). As seen in the image below, I always select "Erase all" in the USB Burning Tool's configuration settings.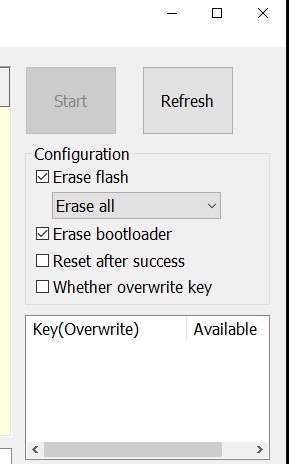 First boot after flashing displayed Boot logo for about one minute, then displayed Linux booting output, then the Login screen. After entering the password, the desktop was displayed.
Some things to try…
-If you downloaded the image without checking with the MD5 checksum, it is possible the download was corrupt. You could try to download it again and use the MD5 to check downloaded file integrity.
-Make sure you are using the latest version of the USB Burning Tool.
You may also want to take a look at Krescue. Krescue, among other things, can be used to install images. Images can be downloaded from within Krescue and flashed after the download is complete. The same Ubuntu image you tried, is also available as a Krescue install image.
i cant to reinstall, vim2 does not show in usb burn tool anymore… when i connect hdmi cable to vmi2 monitor shows no signal, but red led is on
What version is your VIM2?
If the previous flash was bad, you may need to put the board in to MASKROM or TST mode to flash it.
Krescue may also prove helpful to you.
just noted that my khadas ir vim1


managet to get in Upgrade mode by shorten M
after starting flash i get error [0x10105002]Romcode/Initialize DDR/Read initialize status/USB Control setup error
extra power cable connected
write krescue to sd => insert SD => triple press KEY_F (middle key ) => wait WHITE LED blink => READY TO INSTALL any system
its alive!

thank you all for help!

which solution was help u?
he confused vim1 with vim2

M-register helped determine the board!
yep, @Vladimir.v.v is right on my case was "VIM2" but after looking for MRegister (this helped when device was not responding) found it VIM1, downloaded right image and USB burning tool settings as @RDFTKV mentioned and all good