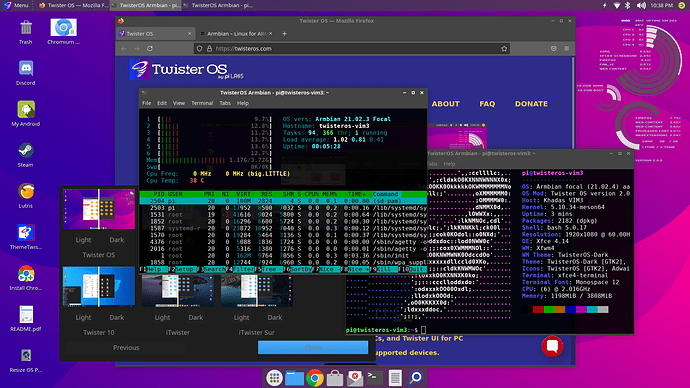 A new image is now available for download and testing of Twister OS 2.02 for tke Khadas VIM3 Pro. This is the latest in the series described by this post:
Twister OS Armbian 2.01 on VIM3! GL Acceleration Fan and AUDIO - Full HOWTO and Working Image DL
I've had success in reproducing bootable images on MicroSD with dd, Balena Etcher and Gnome Disks, and also successfully transferred installations to the VIM3 EMMC.
Thanks to Dangeruss26, @jtremblant, and salva of the piLabs team for a lot of the work testing and providing feedback from earlier image releases.
TwisterOS Armbian Discord Server for Chat and Info: Discord
CHANGE LOG from v2.01c
Updated to TwisterOS patch 2.02.

Re-synchronized filesystem changes from TwisterOS RPi. Deltas were missing from some patch levels, and caused errors with patch utilities.

TwistUp patch utility configured and available in Settings menu.

Changed and updated the files in /etc: armbian-release and armbian-image-release

Numerous updates for typos and broken links or menu items.

Fixed occasional failure to launch Synaptic with prompt for elevated privileges

Fixed inconsistent behavior by webcord client for Discord. The armhf package would segfault on Armbian Meson64 kernel. Arm64 package remediates the behavior - See ~/AdditionalPackages.

The previous image releases of TwisterOS for Khadas VIM3 contained a build of Khadas Fenix mainline uBoot. This package is now included in ~/AdditionalPackages.

Configured Kodi packages. These were uninstallable in earlier image versions, with conflicting apt repositories.

Removal of Khadas fenix repository from apt repositories. This introduced conflicts and complex dependencies with Armbian. Fenix parts were already pre-built into the images. TODO: A .deb package with fenix and other image modifications as an Armbian board package.
Once again, thanks to everyone who has helped or made use of the earlier releases. Enjoy!
— Jeremiah
₩₳ł₮ł₦₲ ₣ØⱤ ₮ⱧɆ ₲ł₣₮ Ø₣ ₴ØɄ₦Đ ₳₦Đ Vł₴łØ₦