That explains it. Thank you.
You must have used Ubuntu of Linux 4.9 . That's legacy. And legacy images work only with legacy uboot ( that's the android uboot).
For twister or manjaro or any Ubuntu having 5.x kernel, you first need to replace uboot to mainline using krescue method. Then all these newer operating systems will start working
android has a different bootloader iirc, its so its compatible with the linux 3.14 Kernel it runs on


the "legacy" linux image runs the bootloader meant for the 4.9 kernel
so I presume there is two seperate ones
Twister os image is great. Sal and pi labs have done a great job. My overclocked rpi4 runs twister good but khadas is s better sbc. I use my Android on my khadas almost daily I don't want to lose it. But I'm happy and appreciative of help provided here. Thanks.
I also have Android on eMMC of my VIM3 pro and use it very often but it doesn't prevent from loading Twister. You can flash mainline Uboot on SPI in Krescue:
main-menu -> Advanced -> Experimental -> Update/Write U-Boot by online to SPI-Flash
Krescue UPDATE
And switch KBI boot mode from eMMC to SPI either in Krescue again:
main-menu -> KBI - Device Configure -> Set Boot Mode to SPI
And you can load any os images from SDcard or USB without any issues.
Then if you need to load from eMMC while in SPI boot mode you can power on and make 3 short presses on Function key or
press Space to stop boot sequence and write:
kbi bootmode w emmc
@Mecca and @Dingo
Glad you two are working out the particulars of VIM uBoot configuration. It's flexible, but definitely not intuitive. Thank the makers for kRescue!
In case you missed it:
New image for TwisterOS v2.02 is now available. This one smooths out some wrinkles, and should accept forthcoming TwisterOS patch updates to future versions.
Announcement here:
Bluetooth audio is now working out-of-the-box with Broadcom BCM43598 WIFI/BT chip by either using Blueman manager or bluetoothctl, I tested it with several JBL BT speakers(extreme, charge3, flip4 and flip5), audio technica, sennheiser and JBL BT headsets and it worked flawlessly on all of them
Update: BT audio devices can be also configure using armbian-config utility, (Network, BT Discover)

Twister OS Armbian version 2.0.3 update has been released!
Version 2.0.3 patch notes:
Updated Discord app and icon
Updated Conky profile to show stats for 6 CPU cores
Improved audio quality of startup sounds
Added fix to address Box86/Steam GTK error
Added rice video plugin to Mupen64Plus
Added Twister OS wallpaper
Updated ThemeTwister to no longer require reboots when changing themes
Thanks to @dangeruss26 for his wallpaper contribution
Instructions:
Edit /usr/local/bin/twistver
- sudo nano twistver
Change it to "Twister OS Armbian version 2.0.2" without quotes
Ctl+X to Save it.
chmod a+x TwisterOSArmbianV2-0-3Patch.run
./TwisterOSArmbianV2-0-3Patch.run
Download:
https://twisteros.com/Patches/TwisterOSA…3Patch.run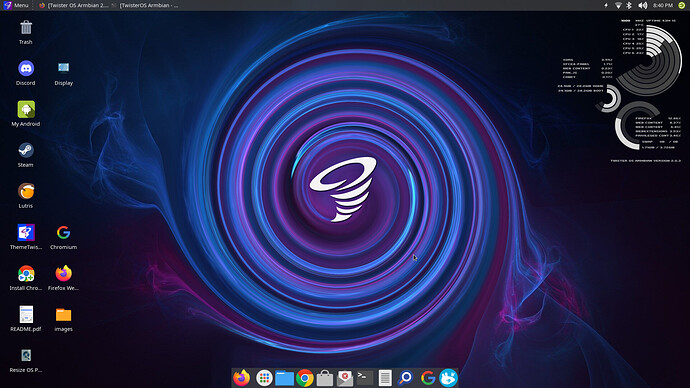 This is great news. I'm on vacation and away from most systems, as noted by my lack of activity! When back at end of July, I will build updated and patched images for general use.
This should tide users over, while Khadas is now sponsoring official Armbian support - and I expect that to form a new baseline in the near future.
Vim3 Pro with 5.13.4 fully overclocked is much more stable with dedicated secondary storage w/Samsung T5 500Gb after fully updated w/ TwisterOS Armbian 2.0.3.
It's highly recommended to switch from default 5.10.43 to 5.13.4 kernel. You can easily do that using armbian-config utility.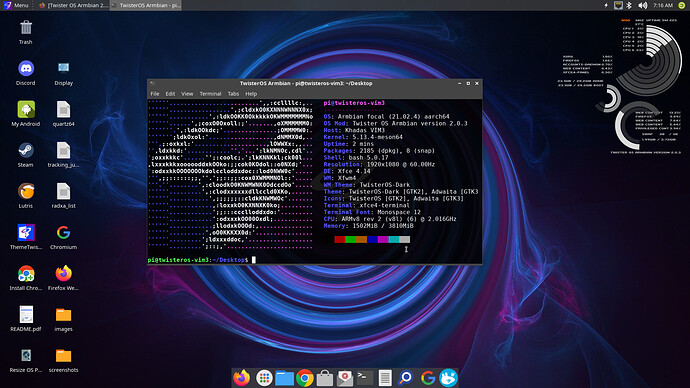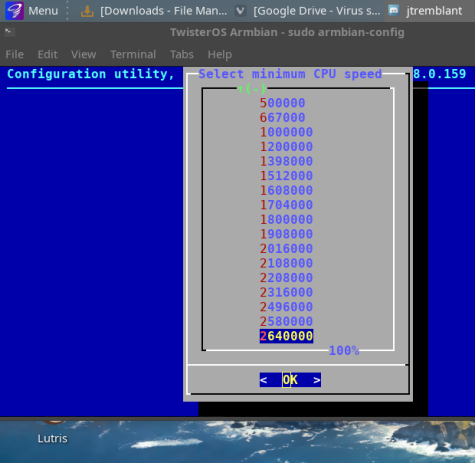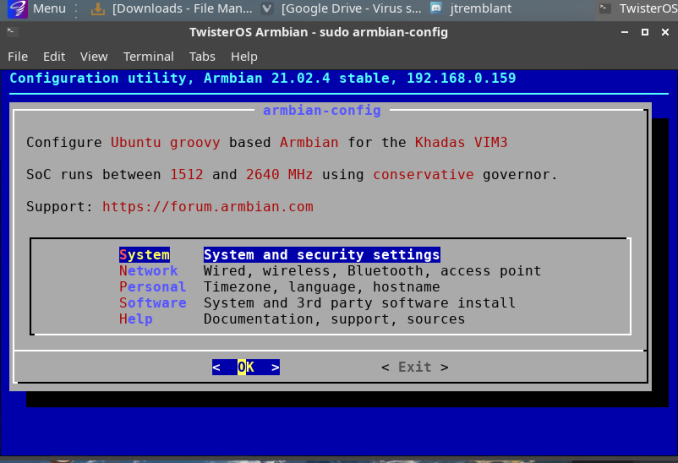 How do I get it to install on NVME?
NVMe boot on Vim3 Pro running TwisterOS Armbian 2.0.3 is currently not supported it.
Chromium hardware acceleration does not working

What are you trying to run?
There is no vpu hw acc. Don't arm have separate units for graphic and video processing.
If you're expecting vpu support then it's not present, if its gpu hardware acceleration for website rendering then you can look into it.
Needs to open chromium with panfrost specific flags.
Last time we tried, it worked from NVMe but some serious screen flickering issue was present when NVMe was in use. Will try this newer u-boot version and report back. Thanks.
Why does Twister OS use Docker to run Chromium? For some reason, GPU acceleration does not work for me. In a regular Armbian, everything works at once. VPU does not work anywhere.
To get widevine to work so user can watch drm content like netflix, amazon and etc.
It uses armv7 chromium package.
Does it useful without VPU support?