Information from 11/26/2020.
The launch is scheduled for Q2 / Q3 2021.
yes, this came out yesterday, talked about it on the khadas discord.
its odd with the ability for upto 32GB of maximum memory allocation. the maximum that is really "necessary" is probably only 16GB, and that's for hardcore users that are probably using it for their Linux desktop and such. not for someone doing video playback, Media playback or something like that, 4GB is enough in that case.
PCIe and the PCIe 2.0/ SATA switch is something that is cool. hopefully with this better PCI controller, you could try something like add a GPU or such, and not be halted by BAR memory limitations and such.
good chip, waiting for its release in q2 of next year.
hopefully I expect Khadas will tinker with it, and release the Edgev2 or such by next Christmas.
Don't forget the RK3566, also a good chip, its a bit of mix between the Amlogic S905D3's CPU cluster and the A311D's GPU
maybe a Edgev2L

Pay attention, the terms have also been shifted, I am sure there will still be changes in terms of characteristics, possibly minor.


PCIe 3.0
Both

Yep, we joined the RKDC and we have the latest information

Edge2 will be a powerful ARM PC.
@Gouwa will you be using the RK3566 as well ? or just the 3588 ?
We should not have plan for RK3566 and RK3568 as both performance is similar with the 12nm Amlogic S905D3 used on VIM3L.
And RK356x still comes with 22nm process.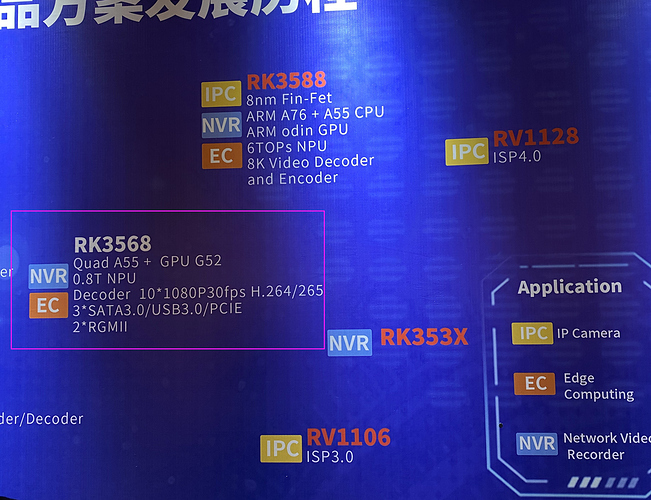 then its just the beast RK3588, that's great
looking forward to it

thank you!
Yep, less is more.
We should focus more on delivering better software experience for our SBCs.
Yes but just make rk3588 desktop class hardware and push its support to kernel then distros will get you best software.
Cannot wait for rk3588 boards to be out.
I too have been thinking much about the 3588 since first hearing of it. Also looking forward to Khadas' implementation of it. Should be a capable device.
Yes only thing is we will have to use external GPU over PCIe instead onboard as that would take a year or 2 to get support pushed upstream.
I hope arm will push gpu support themselve in the kernel and panfrost along with collabora team.
I've never been less satisfied

What about AV1 decoder support? There no information on this conference, but AV1 had been shown on previous Rockchip roadmap early this year
Hi, I think we will find out all the comprehensive information when the chip itself is released.
Yes, I hope 8K@60 decoding for AV1.
On Wikipedia, in the pivot table AV1 is also listed for RK3588.
Finally there was a leaked geekbench for rk3588
https://browser.geekbench.com/v4/cpu/16426661
Some comparison with rk3399 and S922x
It is double the performance of s922x
It going to be interesting new year.

the long awaited RK3588 has been release with a spec sheet

Hoping for khadas to release their timeline as soon as possible

Khadas will get prototypes soon I guess.
Hoping they will work on it.
Interesting soc but gpu support will take time while hopefully rk will officially work on vpu.