Yes - working nicely on my VIM 1 8gb
it does not work from usb burning tool, it does not boot
I have to change the u-boot?
slightly off topic but should this ROM work on a VIM?
Not without significant adaptation: dtb/u-boot/bootloader will not be compatible, and it has a different wifi chip, I believe.
EDIT: apologies - Mask Rom mode finally worked!
Hi Zahir - I'm attempting to upgrade my VIM from this ROM to Nougat.
I'm having problems booting into upgrade mode as you suggested. Both button press and mask rom mode aren't working.
Do you have any ideas?
Thanks
Glad you managed to find the exit…
Zahir, your rom works fine, but I cant use wifi 5g. it is not discovered.
Has you any idea How is possible to runs wifi ac.
I have running libreelec on SD, with wifi ac. there is a big difference.
Thanks
The download link does not work, are you preparing another rom?
Could you go back up the rom?
I will shortly post my updated version of ATV Experience for Vim1. It utilizes the latest release (March 2019) by the ATV Experience team. You will require Amlogic Burning Tool 2.1.6 to install it, which I'll also upload.
I need to check a few more things relating to my custom boot files and see how the new rom holds up under stress. Initial impressions are rather favourable - this is a quick and full-featured rom. (5G wifi ac is detected immediately, so no issues there).
Please let me know if there is any interest in this updated version.
A fantastic news, I'm looking forward to trying it
oreo or pi version?
No, the latest ATV Experience release is 7.1.2 - Nougat.
If they move on to Oreo, I'll look at it. For now, this is the most polished of their efforts, and possibly the quickest rom I've seen on the Vim.
Will post tomorrow, with a few comments.
Thanks a lot Zahir.
Till now your atv rom is the most stable.
I will test the new one.



So, without further ado, here is Version 2 of the ATVExperience rom for the Vim. Based on the March 2019 FINAL release by the ATV team, it's full-featured and fast. If you were able to run my Version 1, you should be able to use this port, which is noticeably superior in terms of stability. Happily, the Vim's system buttons work with this release, so you shouldn't need Maskrom to install another rom. (But be prepared to resort to it if your box responds differently).
The good: polished, with a very snappy interface. Excellent video performance. Smart YouTube runs in 4k, if you want it to. Flexible because it's rooted - if you know what you're doing, you can tinker with build.prop and other system files, or run apps like System App Remover that require root. The rom comes with several system apps, and if you want to remove any of those, that app will let you do so. (You can switch root off in Settings, if you need to).
The rom seems pretty solid: I've run it overnight, without hiccups. It seems to be mildly overclocked - the Vim gets warm - but not as warm as with SuperCeleron's Oreo ATV rom.
The not-so-good: a) the Vim's remote doesn't work, you'll need a USB remote. b) the sleep function sort of works - A short press on my remote's power button sends it off. Or use the power menu. One press on the power button and then one press on any other button wakes it up. I suspect this method only turns the screen off and on. Power Off and Restart work OK. However, once you shut down, you power up again by pressing the power button on the box (the first one). My remote doesn't power on, but yours might; c) Interface (system) sounds don't work…no little clicks or beeps as you hit the menus.
Audio itself works fine, whether PCM or HDMI. I didn't try DTS or Dolby.
Installation: use USB Burning Tool 2.1.6 or higher (link provided). First boot takes a while, as long as 4–5 minutes. Be patient, that splash screen will go away! Subsequent boots are fast. After first booting up, let the rom sit for a few minutes (you can adjust your settings while it sits) and then reboot to complete the installation.
All credit for this rom goes to the ATVExperience team. Let me know if it works for you.
Rom V2 : https://mega.nz/#!VKQQCATB!3sAGNslynBBYriujDCE9Tg4BuFW-a5wg7C0pmrnpYKA
Tool: https://mega.nz/#!VHQECS5a!62YM88iDdb5bLgmpYcRgbyeS57exFe_tbrzg7_mia5Y
Hi Zahir.
Thanks a lot. Im testing the rom.
I cant connect by wifi ac, I dont know why. and by 2.4G it is lower than normal. By the way I use in the same VIM libreelec and it is connect perfectly wifi ac.
Instalacion as you said, no problems.
There is a lot of apps,
after install I can insert my SD card with libreelec, and turn the power on, with presing in the power key same time. then libreelect starts.
Thanks for the feedback. At my end, I connect with ac wireless (5G) with no problems at all. Check your router's security settings for 5ghz maybe? Should be WPA2 Personal or WPA2 Mixed Personal.
I'm posting a snapshot of my wifi test result on this rom using Analti. Connected via wireless ac 5ghz, with respectable download speeds.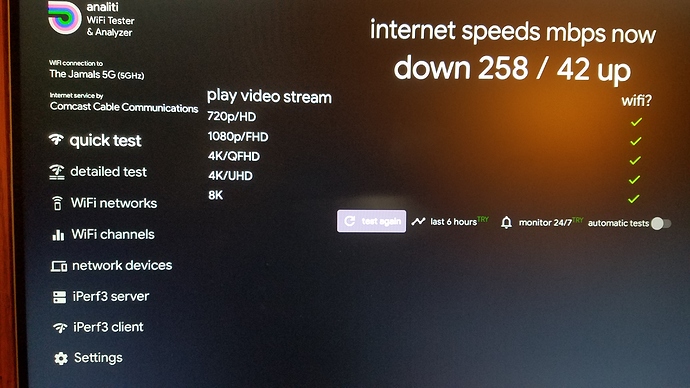 there are some mistakes. may be in my system.
There is no sound, because it is off, ¿¿??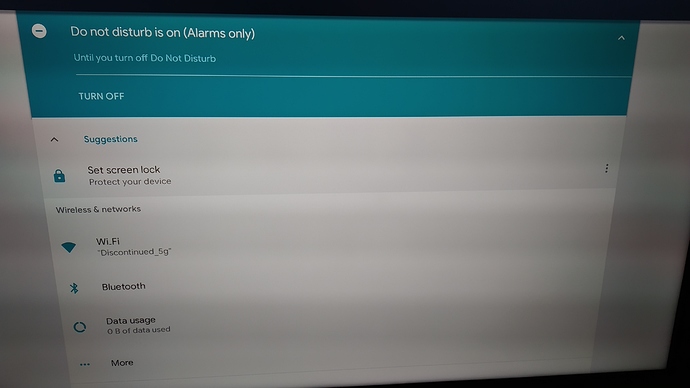 LeanKeyKeyboardPro is working bad for me, tke keyboard disspear in my screen.
It is a fine rom.
Thanks for this pretty rom
thanks for the rom Zahir, but unfortunately it hangs on boot (bootlogo or animation),
maybe u could give a brief introduction how u build the rom , especially what is a 'T7 Nougat rom' and where can i get it.
thanks again