Can you release your firmware pre-compiled or do we have to go thru all the steps ourselves?
Thanx
Yes, I will post everything in the next two to three days, after I get home.
This will be great - can't wait to test. Hopefully @Terry and @superceleron will also include GPS in their builds as well.
Progress!!!
There is an app called Gps Tether wich share gps data from phone using wifi hotspot or bluetooth. I am using for my car project, and works great. Vim3l has internet via wifi phone and gps data from phone aswell
What phone are you using as the hotspot? I have an iPhone so I doubt that would work…
I would much rather the system had its own GPS.
If the vehicle is stolen and needs to be tracked, it wont work if my ph with its GPS is on me

I am using the Quectel LTE card, I believe it has a plug for a GPS antenna, maybe that will work rather than using a USB port or hotspot?
Any update on next release that will support GPS? I have a very common globalsat BU-353S4 USB GPS device I would also like to use. I am planning to use the VIM 3 Pro as an in-car virtual speedometer (using realdash app from realdash.net) but can't really proceed until I have working GPS (GPS Is needed for many functions)
@Banana Не могли бы вы рассказать в кратце, как заставить работать GNSS803G? Включение GPS вроде как добавили в последнюю прошивку)
I'm in the same boat…patiently waiting for the release
Купил GN-803G.
После подключения к VIM3, приемник в "dmesg" определился как "/dev/ttyACM0"
Выставил пока права на него 777.
Вывод "cat /dev/ttyACM0" на фото.
Yandex.maps, 2GIS и GPS Test приемник не видят, выкидывают на экран настроек "Сервис определения местоположения".
Вечером продолжу эксперименты.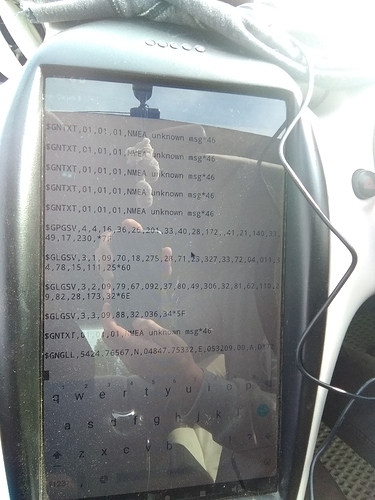 In the most recent firmware, GPS is disabled. (As well as in any other). GPS device drivers are not included. The GNSS system is disabled. In each individual case GPS is launched in its own way)))
We have already added GNSS on our ROM. And will release the new Firmware in June.

It's only 32 bit ROM
@Terry ok Thanks, Is there any plans for a 64-bit release…?
somewhere there was official information about Android 11 x64
Umm, I wouldn't say official, even I got that from somewhere in this forum

@Terry gave the info, you ask him,here is where i got it
ok i corrected the link