Thanks, Khadas for the opportunity to show you their New Entry IN to Intel and WINDOWS-11
What we have is an all in one, Very compact Mini Portable workstation or MIND as it's named.
The unit I have is and Intel 13th gen I5 with 16gb Ram and 512GB SSD
Very neat Compact unit, there is also an optional Dock for the unit to Attach.
At this stage it has not arrived hopefully soon.
An optional GPU can be attached for Power users.
A well packed units and has that look of Mindfulness
Supplied with USB C Cable and USB C-PD Power supply
Not too many ports on the Base model, plenty to get you started
and Vents on each side to keep things cool
Also Getting started Manual and the all-important warrant Card
More can be found
Not forgetting even tho i did,


The all important Docking port and upgrade for extra (M.2 2230 PCIe 3.0)
Let's fire up this little Bundle of Joy and see how it all pans out.
Be Mindful the Base of the Unit appears Rather Magnetic so no placing on top of HDD etc they may get erased esp. floppies.
Power up the Mind, much the same as any New Win11 startup, tell us who you are and give us all you information.
So off we go, Smooth startup, connect to Internet, connect to MS, Windows Update, 30~40 minutes maybe more a few restarts all done.
Few thinks to update let's see what mess this can cause or fix

We Need dark mode

Look thru device manager to see what we have, good looking hardware

Intel wants to stick its Nose in also this could be Interesting:

Looking ok ready to go:
where can I find all the drivers for a clean installation?
Hi
I think you will find windows should take care of it it all,
Yet to do a clean install myself, as its chugging along ok…
Will check and advise
R
after the installation and the updates there are a few devices with missing drivers… I have to inspect them to check which device is what.
Ok have you checked the intel drivers update ?
Intel
Scans the PC and Updates some ? may help.
Put in a request, should get an answer withing 12 hours bit early in that part of the world presently
Rob
Busy week,
A bit more of a look at the basic Windows11 information
Update on the Graphic Drivers:

Claim to Fame:

Some systemn Info:

Taskmanager views:
CPU:

Memory:

WiFi:

Disk:

GPU:

Out of curiosity, did any of you guys run into issues with wired network card in dock? My one for some reason gets all info from DHCP correctly but then works only for 4-8 pings. I tied changing link form auto negotiation to any set speeds, changed cables, tried 2 different 1GBe switches, same effect - few pings and then "destination unreachable"/ "request time out". Port on switch stays up and shows activity.
Hi,Monty.
In my environment, both wired LAN and Wi-Fi are fine. File sharing with other Windows PCs at home is also normal. (Since it is a Japanese version of Windows environment, please guess the characters displayed in the capture from the position)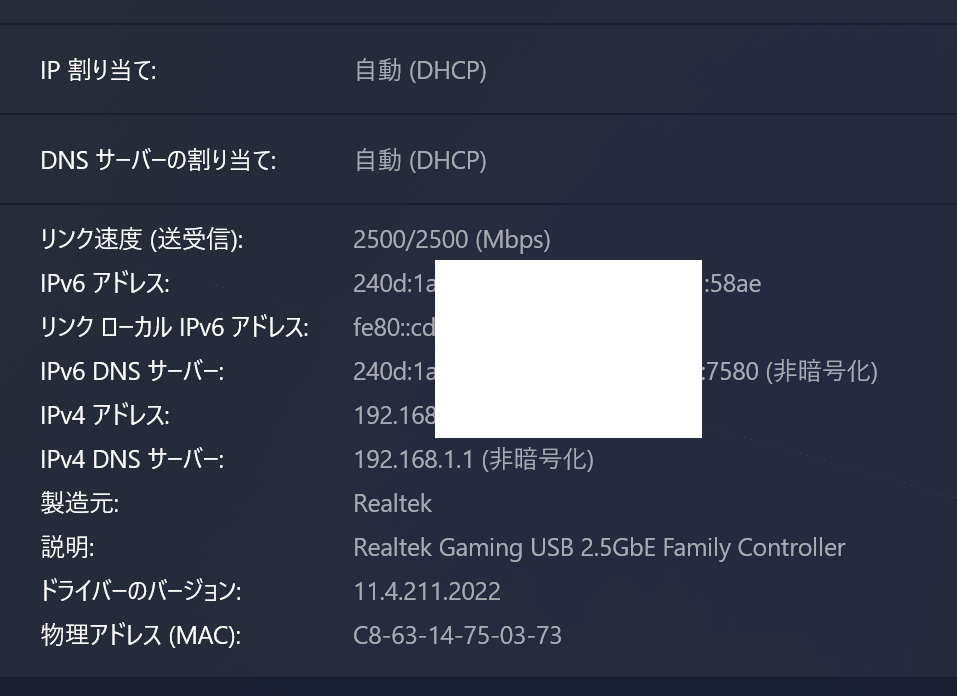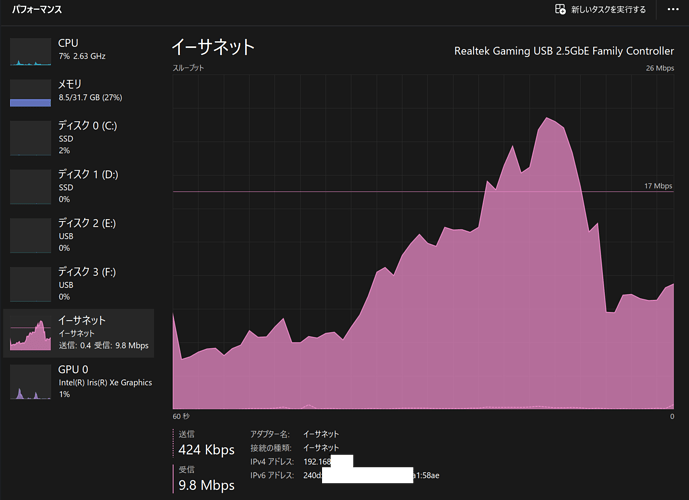 I have already setup the machine for my work, as using cloud workspaces, basically just plug the cables, and turn it on.
I have left the dock in office, and only use a tiny bag to carry the Mind main box with me, instead of the backpac and the laptop.
But when try it with games, I am a bit worried about the performance. On youtube, I have seen someone running the CS:GO with mind for 150 fps, but for me, with lowest video configuration, I got only 60 to 70 fps only, and I tried to update the driver. Saw below messages from intel :
A customized computer manufacturer driver is installed on your computer. The Intel Driver & Support Assistant is not able to update the driver. Installing a generic Intel driver instead of the customized computer manufacturer driver may cause technical issues. Contact your computer manufacturer for the latest driver for your computer.
I am not expectiing 1360p + Iris XE 96u can do well, but just worried how will it perform with 4060ti later.
Not to sure what advise, i did an update windows then Intel forund the new ARC driver and no problem with it installing or advising dont do it,
I dont have the Dock as yet or any GPU device just the Basict i5 more happening with Dock later.
There has been a Windows11 update recently is all upto date ?
I also get "Iris driver update can't be done" but it has actually been updated. And this is the same for other Windows 10/11 PCs that I use. So, I think I'm fine. I've pasted my iris driver information below.
Provider: Intel Corporation
Version: 31.0.101.4953
Date: 2023/11/07
p.s. I have an eGPU's "GPD G1". Tonight, I will try to experiment with the game by connecting the oculink cable to the additional M.2 port of MIND. I'm trying it for the first time, so I'm not confident it will work.
Yes same new version here

@melvin do you have a link to the video you mention
thanks
And you have the i7 as shown in this video ?
Yes, i7 1360p.
PROCESSOR
13th Gen Intel® Core™ i7-1360P
Device Details
ManufacturerGenuineIntel
DescriptionIntel64 Family 6 Model 186 Stepping 2
Architecturex64
of Cores12
of Threads16
Processor Base Frequency2200 MHz
Current Voltage7.
Level 2 Cache9216 Kb
Level 3 Cache18432 Kb
Processor Id0xB06A2
AvailabilityRunning at full power