New Vim3 A311D (922x on steroids so to speak)


A311D has 5.0 tops neural engine so its better for the AI stuff.
From Google:
A neural processor or a neural processing unit (NPU) is a microprocessor that specializes in the acceleration of machine learning algorithms, typically by operating on predictive models such as artificial neural networks (ANNs) or random forests (RFs).
So if OK Google or Alexa got hold of this look out !
For those that are New to this type of device.
Its rather all easy and nothing to be concerned about
Just a PCB, put in a box and its then it becomes a media player,
with a few more trix up its sleeves
Does all the same features as a Media player, Remote, HDMI, WiFi Ethernet Ram CPU Plus more
As I mentioned don't be put off, its all the same, maybe better
So lets have a look see at what we have and put it all together
Being a Kit form type of thing you will miss the boring Brown box and bubble wrap packaging.
But the actual small black box the PCB is kinda Groovy.
What we have: All the Bits nearly just waiting for the fan then it will be real Kooler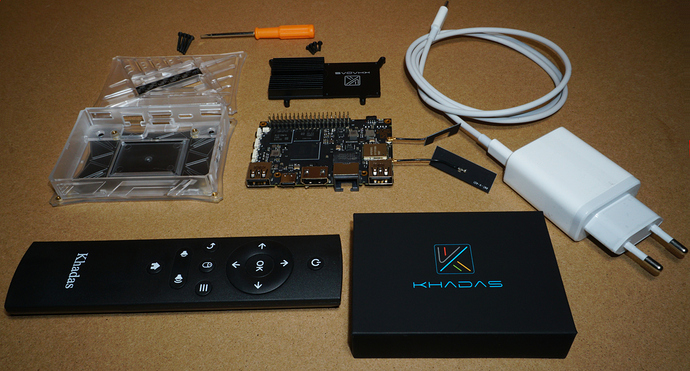 Case and Heatsink

Top Side: 802.11ac WiFi 5 & Bluetooth 5.0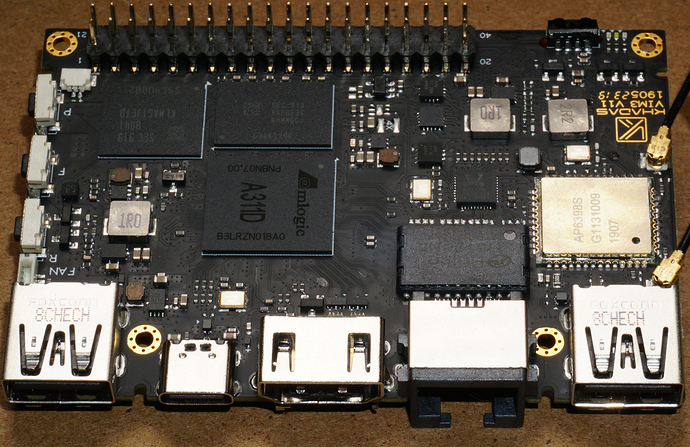 Bottom Side: M.2 socket for NVMe SSD that will make it zip along and other interesting sockets: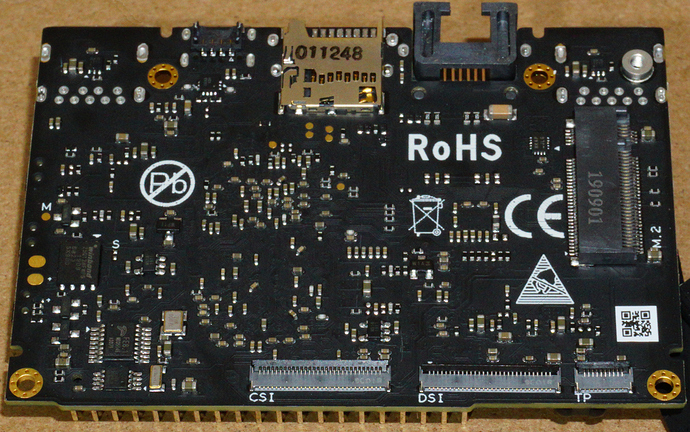 Fit Thermal Pad: Avoid covering 1R0: heat sink will ride up a little

Placed in Case: Snug fit WiFi and BT antenna

All Nice and snug as a bug in a rug

On with the Lid:

Ports to be seen:

Buttons On the Side:

Power Supply:
Currently installed with Android 9 first Rom can be a ruff around the edges, updates will be about soon,
I also feel Superceleron may stick his talent also into one of these. Speculation only.
More as it happens
Also more information just to keep it real, currently VIM3 ROMs
The updating of new ROMs will be very soon as the Installed Rom is not the Final release more on this, Also Ubuntu 18.04
Besides Android Pie and Ubuntu, VIM3 will support more OS by 3rd-party devlopers/team like:
LibreELEC: Instructions for VIM3
Armbian
CoreELEC
VIM3 Webpage: https://www.khadas.com/vim
VIM3 Documentation: https://docs.khadas.com/vim3/
Khadas Github: https://github.com/khadas
Khadas Fenix: One-stop script set to build Ubuntu/Debian images https://github.com/khadas/fenix
https://forum.khadas.com/t/use-fenix…ntu-image/1256
New Accessories for VIM3: M2X Extension Board
Interesting & Maker-friendly features which is important for developers but peaple might ignore


Khadas TST: Enter upgrade even when the boot loader is damaged, just press the function key 3 times within 2 seconds.
Khadas KBI: https://docs.khadas.com/vim3/KbiGuidance.html
A311D(VIM3) with excellent performance then other SoC like RK3399 and BCM2711B0(Rpi 4B):
https://github.com/ThomasKaiser/sbc-…ter/Results.md