Which version of system do you use? Khadas official images, self built images, or others?
Ubuntu 22.04 Gnome
Please describe your issue below:
I've got a camera to test with the Khadas Edge2 but am unable to get it working correctly.
I can get an output on display using Cheese, but the image is cut in half and on the right there's a big green border.
Post a console log of your issue below:
khadas@Khadas:~$ v4l2-ctl -d /dev/video24 --set-fmt-video=width=720,height=480,pixelformat=NV12 --stream-mmap=3 --stream-skip=3 --stream-to=./data0.yuv --stream-count=1 --stream-poll
<<<<
This seems to work. It creates a file "data0.yuv" , no idea how to open the file.
Using Cheese the best I get is this. device name rkisp_mainpath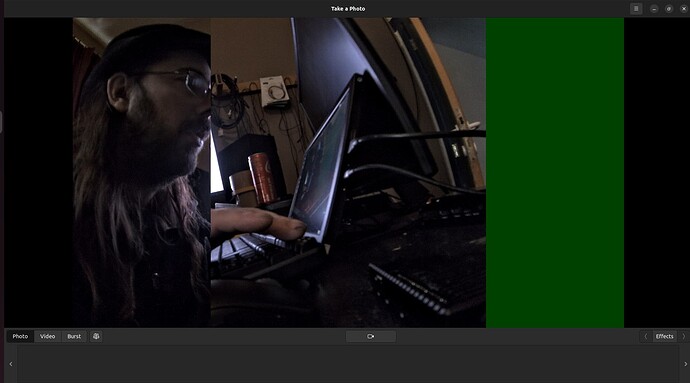 Image cut in pieces and the green border on the right.
VLC can't show it either when choosing video24
'VLC is unable to open the MRL v4l2:///dev/video24"
I tried every video source.
Any suggestions on how to use this thing? I rather have a gui program to work with it.