Which Khadas SBC do you use?
VIM3
Which system do you use? Android, Ubuntu, OOWOW or others?
Android
Which version of system do you use? Khadas official images, self built images, or others?
https://dl.khadas.com/products/vim3/firmware/android/vim3-android-9-64bit-v230130.img.xz
Please describe your issue below:
I am building a digital dashboard to replace the instrument cluster in a old vehicle using a VIM3 running android and the Realdash app from the play store.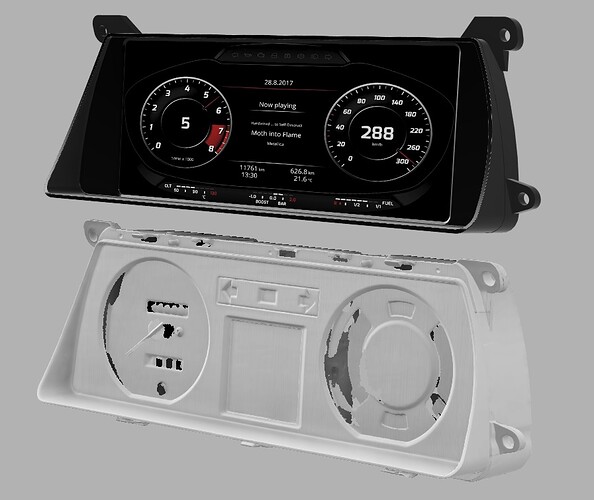 I need a solution to reliably wake and put the VIM to sleep according to the vehicles ignition key position, as the VIM will be inaccessible once mounted. I know this has been discussed before in other posts but I have been unable to implement a solution.
The main problem is that even though the power button on the device can be toggled to wake and sleep the SBC, 99.999% of the time when its put to sleep, it will wake itself up within a few minutes and drain the vehicle battery. I have built relays that short the POGO pads on the SBC according to the ignition state, but this is even more unreliable as the SBC still wakes itself, and the switch logic easily fall out of sync.
I want to follow the solution as described here: Command to Trigger Android Sleep? - RealDash Forum which seems to be a similar approach discussed by @3id_L here : VIM3 Android Power Suspend by Voltage Level / GPIO? - #6 by goenjoy
A ESP is powered when the vehicle is turned on, it checks the sleep state of the VIM via a GPIO pin, and if it's asleep, it shorts the pogo pins to wake it up.
Once the VIM is awake, the VIM then monitors the ESP's power state, and if the ESP is turned off when the ignition is turned off, the VIM runs a script to put it into a sleep state. (apparently it like to stay asleep when commanded this way?)
I am familiar with how to wire this up, and I am familiar with how to put the code on the ESP using something like Arduino IDE.
What I don't know is how to put the code on the Android VIM3? Hoping someone can help, where does it need to go, and how do I put it there. Preferably explained in a way a child would understand, because that's my level of knowledge with this SBC and android.
Many thanks