Hi all, I'm trying to design and build a headunit for my motorcycle so that I don't have to mount my phone on to it.
Functionally speaking these are my requirements:
Apple CarPlay - I've got this by using a USB dongle (Autokit) Carlinkit Wireless CarPlay Dongle for Android Head Unit - carlinkitcarplay.com
That means the headunit has to run Android
Bluetooth connection to my Cardo Packtalk Bold
A sunlight readable touch screen between 4.3 and 5 inch with at least 800x480 resolution and 1000 cd/m2 brightness. TS050 on its own is not suitable because it's not bright enough
A 3-button handlebar remote to have up/down/okay - I will have to DIY this but will need advice
Nice to have but not essential - separate power management system to deal with voltage drops/etc - I will probably need a dual 12v and 5v system to power both the VIM and the screen and/or supply power to the phone. Ideally like an Arduino/etc that would safely shut down the VIM and cut power if ignition isn't detected for like an hour or so.
![IMG_2554|666x500](upload://3g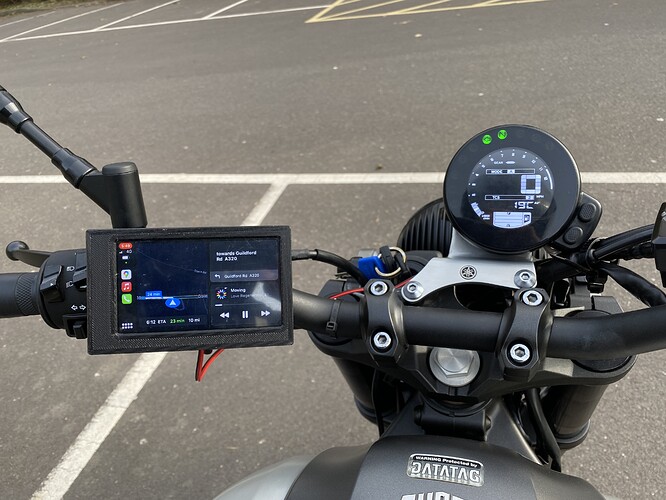 2FSatXktI1fTs7q5N8qVqRgiA.jpeg)
So far I have a prototype working-ish with a Vim3L, a Waveshare touchscreen and the dongle. However, the Waveshare touch screen is not bright enough so I need to change this. I've tried this product 4.3 inch 800*480 IPS LCD, HDMI interface, high brightness, TFT LCD capacitive touch panel wide temperature with a HDMI board|Tablet LCDs & Panels| - AliExpress but the screen is stretched at 1080p and won't even display anything at its native 800x480 resolution…
I was wondering whether I can get any assistance in terms of what screen I can get or how I can have buttons if both USB ports will be used?