Hello,
I can't connect my Logi Logitech MX Keys Mini wireless keyboard, on the Bios boot screen. Is this normal?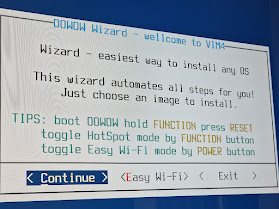 Therefore, it's a shame that you can't use the buttons on the motherboard to navigate the bio, or better → use a remote control in HDMI CEC.

Do you think an update could allow that ?
Another problem,
Connecting to OOWOW to navigate the interface works perfectly in Hotspot, with Wifi with confirmation. But it didn't work at all in LAN, typing the address vim4-xxxxx.local. Do you have this problem?
Finally, last question; do you know how to boot on micro sd card rather than eMMC?
Thanking you