is it possible to use a 5amp load on the vin connector ( battery charger circuit) directly from usbC ?
You can of course, the main thing is that the voltage matches, the current can be more
The VIN is not a battery charging circuit, It only allows electrical input, no output,
i'm using a 5 volt 6amp charger. thanks for your fast reply
no problem, the more current, the better!
yep. I made the charger circuit. I want to use the vim3 usbc\ molex vin to get the current, I need just a bridge. what you think?
well, what I can suggest is using a separate charging circuit with a separate input port,
the only thing I would draw your attention to is that vim3 works up to 12 volts, just keep in mind!


Yeah, that's on the USB-C, the VIN port supports up-to 28V, but if powering the VIN port higher than 5v, disconnect USB-c devices or, you are just creating a USB fryer

so it's better to use a standard wiring diagram, of course,so that everything works correctly


Yes, @Vladimir.v.v, the diagram for the VIM3 goes like,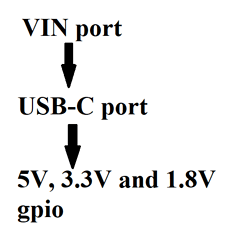 it is the best option. I agree with you. but I have a "mechanical constriction" so I need to use the usb c to get the power on/ charge current. so I'm thinking to use the vin molex to power the charger circuit. it use 4.5 amp.
@colet95 Here is a bit of a suggestion if using batteries,
use one of these powerbank circuits,

Desolder the USB-A connector and attach the battery and attach VIN cable to the Micro USB-B
Use the USB-C port if just powering on, and the Micro-b for power and charging, simple

What is your project by the Way, just curious

I do not mind, I talked only about the correct connection in general


Oh I understand, I just wanted to show the power distribution for @colet95 's reference

In any case, from post number one, there will definitely not be problems with the current!


Yep, shove those 6A right into the VIM3

thanks for your suggestion. this is a complete charge circuit. I just made this component. I need to power it. I'm building an open source 10" tablet for robotics application. I use a 90 wh battery
Oh wow, you came to the right place

, I had the Idea of building a tablet myself, for development purposes as well, I was in the phase of 3D printing the Case for it but the plans got ruined,
check out here for some of my design work, Case for the VIM3 and M2X
thanks guys! finally I can complete my circuits!