Can you provide the adapter info to us, it seems that we should buy one for testing
There is no adapter info on it, it's some generic adapter ordered from e bay last year.
I didn't have this issue with Android, Balbes images or my s805 box, only with this image.
Hi, Tommy21:
Do you know how to post the printing log? A full printing log will help us to analyse the issues. Heare is setup guidance: Guidance to setup Serial.

We have bought a HDMI to VGA adapter for the testing, will update the info when we got it.
I do not have usb to ttl convertor, so i can't post full printing log.
I don't believe this is adapter issue, i think this is monitor fault, i think this resolution isn't supported, monitor displays message "this is overdrive, change screen resolution to…", would need to check it on my win pc, but i must go out.
It's an older lcd tft philips, i will need to replace it soon.
By the way, this image is much better than those unofficial, temperatures do grow sometimes, but i don't even feel that the cpu is hot, system is much more responsive and there is no kernel panic happening.
I tested with HDMI to VGA adapter on two different monitors(one 1080P, one 4K), haven't got the problem, so here I can't figure out the issue your met at the moment.

Did you made any progress on sd card image?
About the monitor, this is not khadas fault, max resolution is 1680x1050, however this would be solvable, if we could change monitor resolution, i hope this will be included in the next update!
Yes, next built will with two installation: SD card & EMMC.
Thanks for the update, will add different resolutions in the future.
Have been testing video playback on Ubuntu, downloaded 720p and 1080p test videos.
Tested using vlc, gnome player and mpv, none of them played any sound, only gnome player managed to play a video, did watch it for a few seconds.
I didn't install any special codec, don't know if i needed to install anything extra?
After playing these videos, i lost system sound, then tried to play 720p video once again, and then the system became very unstable, it didn't return to normal until i rebooted the machine.
I did receive some note about pulse audio not responding, sound caused all the issues.
I just wanted you to know this, i hope this will soon be fixed.
Collected modified the script activate the multi-boot that knows how to activate the multi-boot on this image. Tested on VIM , multiboot is activated normally and can still run Ubuntu from the internal memory when you disconnect the external media. Please to those who have the UART console to check the script. Console UART may need to restore if the script would not work correctly. Note that this script can only be used with this version of u-boot. In other embodiments, the u-boot script may not work properly (will stop working launch system from the internal memory).
When can we expect updated images, with newer kernel, i want to be able to change screen resolution, will there be anything soon?
No one is answering my question, is there any progress regarding hw acceleration, kernel and all the stuff needed to run Ubuntu properly, will there be an update soon?
About changing screen resolution,we will add the support in next release ubuntu version.
You can run glmark2 command to regard hw acceleration.
Any ETA on a build with gpu drivers working?
Plan to be resolved in the next month's release

Do you plan to release Kodi 17 that works on Ubuntu, as i see Odroid C2 has Kodi 17?
Yes, we did.
Actually, our Ubuntu-Mate todolist as following:

(Our team was busy in previous & current month, so we did few software update, sorry for that. But we are ready again on more software update now)
I do not understand everything that is written, because something is written in Chinese, but things like Chrome, Pepper flash, 3D acceleration, Kodi and few others, i really look forward to future updates.
Although i would be happier to receive more frequent updates, i do understand that you have a lot of work to do, and we do have to be patient sometimes, when all of this gets solved, we will have one great Os on Vim.
Yes, i am interested too, can you tell us when will you update Ubuntu, it was planned for April judging by the Vim staff posts?
You must admit, releasing a beta build would surely have a positive effect on community, it would help you to polish the Os much faster?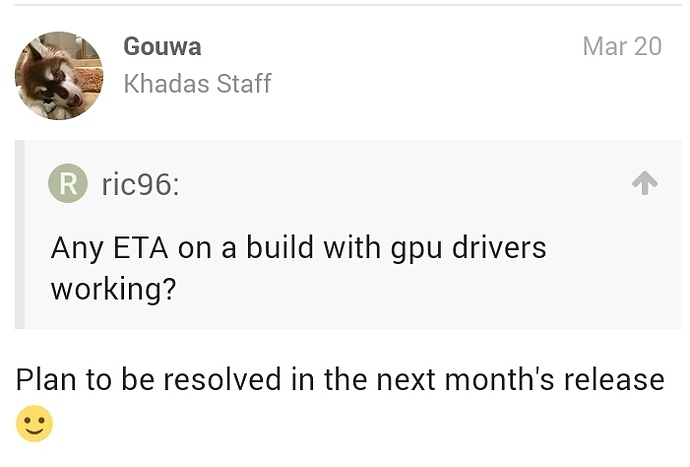 This is the reason why i am asking, look at the date