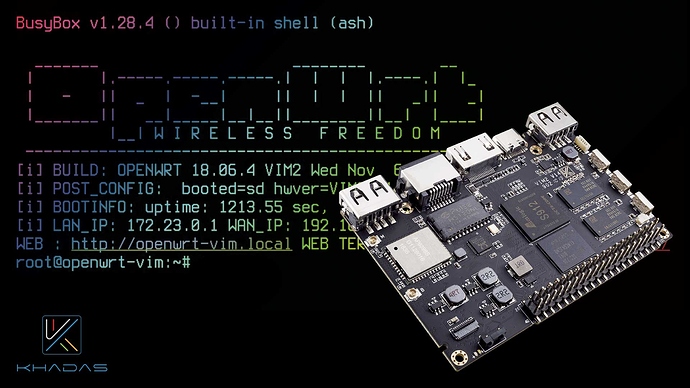 OpenWRT Supported Boards:
Thanks:
Big thanks to our forum users who provided valuable feedback in helping to squash bugs related to the VIM1 and VIM2!
Khadas VIM OpenWRT Changelog:
Release 0.31
VIM2 ethernet fixed, Hotplug and reinit without bugs! OK
Khadas VIM OpenWRT release 0.3
Added support for VIM2 (Wi-Fi Chip AP6356S, VIM2 v14 test mode )
Pre-installed samba, mdns, ttyd, thd + many other packages
Fixed ethernet for VIM2, however still not possible reinit Ethernet iface
Improved startup speed ~ 7 seconds
LED indicators - supported
Physical button KEY_F - reset wifi
Physical button KEY_P - power off
Initial optimization for Ethernet USB MMC subsystems
Change default hostname to: openwrt-vim, and mdns name to: openwrt-vim.local
Many additional improvements
Khadas VIM OpenWRT release 0.2
USB 3G/4G modems - OK
Improve build scripts
Some random changes
Download Images
OpenWRT Access:
LAN IP Resolution to Local OpenWRT Hosts:
172.23.0.1 openwrt-vim.local

mDNS:
OpenWrt._ssh._tcp.local
OpenWrt._http._tcp.local
Notes:
"Blink LED mode" will be activated after OpenWRT successfully boots.
Immediately set your root and wifi password after installation!
USB network connection enabled by default in bridge mode with LAN.
If your VIM is connected via USB cable to your PC, you can access the LAN via USB-net without any extra configuration.
Installation:
Just burn the image to an SD card using Rufus, DD or Etcher.
Linux - one-line-command for downloading and writing to SD
# Write VIM2 image
wget -O- https://dl.khadas.com/Firmware/VIM2/OpenWrt/VIM2.OPENWRT.18.06.4.v0.31.sd.img.gz | gzip -dc | sudo dd of=/dev/SD_CARD

# Write VIM2 image
wget -O- https://dl.khadas.com/Firmware/VIM1/OpenWrt/VIM1.OPENWRT.18.06.4.v0.31.sd.img.gz | gzip -dc | sudo dd of=/dev/SD_CARD

Linux - default installation method
wget http://SERVER/IMAGE.sd.zip
unzip -p IMAGE.sd.zip '*.img' | sudo dd bs=1M of=/dev/YOUR_SD_CARD

wget http://SERVER/IMAGE.sd.img.gz
gzip -dc IMAGE.sd.img.gz | sudo dd bs=1M of=/dev/YOUR_SD_CARD

Install OpenWRT to EMMC from SD Card
root@openwrt:/# mmc_install_from_sd

More Information: