Is this the latest version of Krescue ?
what do you have in the eMMC ?
Blinking blue means it must be in the upgrade mode… did you press the function buttons by accident ?
I have Android and CoreELEC in dual boot on eMMC.
I downloaded Krescue twice today, to confirm it was correct
but it remains black display.
which system installed on emmc? and which resolution supported by your display ?
its ok ! Krescue files conents its same for all devices - different bootloader only
If we have display problem - just connect your VIM to your computer by usb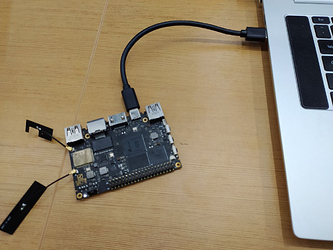 if krescue started successfully - your working machine must have some new usb devices : usb storages and usb network connection (windows maybe have only usb storages)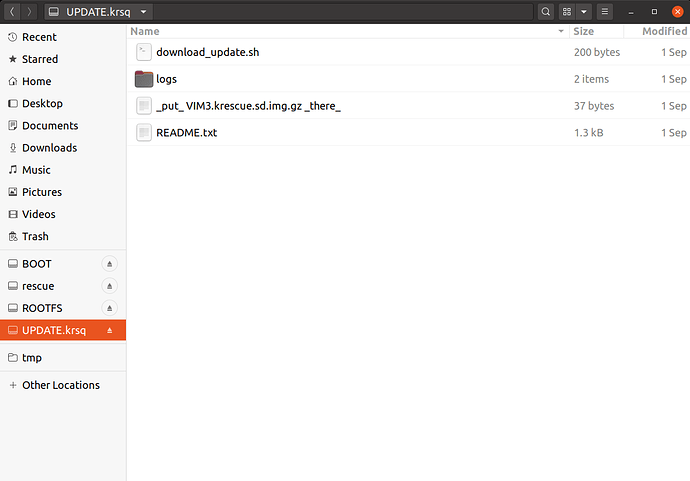 open in your browser http://172.22.1.1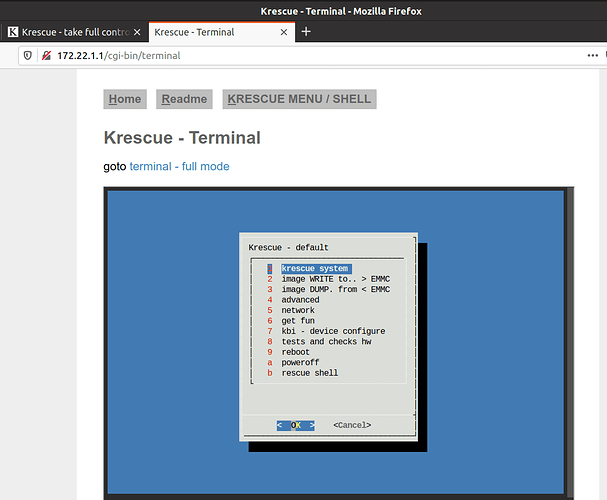 if usb network dont work - and u have normal ethernet connection we can connect vim device with krescue to local ethernet and get acess by http://krescue.lan or http://krescue.local
I will first try with another SD card. I read on some topic that another user had problems with a card.
The resolution, it's a 4K TV, I'll try on a Full HD TV or on the PC monitor.
If it doesn't work, I'll do the process you suggested, connecting the box directly to the PC.
Thanks for the help, I will report the results
if we dont have ethernet cable and have ony wifi network its same easy
just create wifi config file on your sd card rescue/config/wifi with
WIFI_NET_NAME:WIFI_PASSWORD

next time your must have wifi connection for your krescue system
and same can get access to your device by krescue.lan adress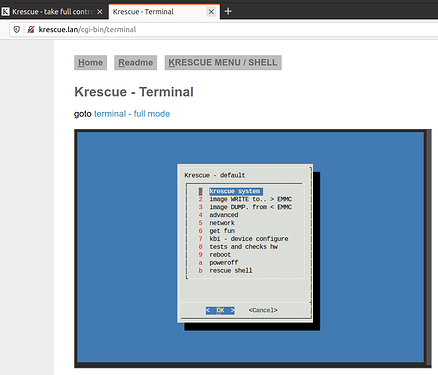 You were right. It's resolution. I connected it to a Full HD TV and it worked.
Thank you very much for your help.
Perhaps it is interesting to put this observation in the tutorial, to avoid 4K monitor
all my 4K monitors and TV same support fullhd resolution - and works fine
but if your 4K tv support only 4K its something abnormal

but i will try to improve it on next versions

If your 4K TV works, it wouldn't make sense for mine not to work. I went back to the tests to find out what was wrong. The problem was not with the TV, but with the connection method. Connecting Khadas directly to the TV works perfectly. If I connect the Khadas on the Receiver Denon and from this to TV it gives a black screen.
So there is no need to improve Krescue, it is perfect. Great tool, congratulations on the excellent work.
I flashed krescue to sd card. But somehow I can't boot from sd card.
Note: My card just arrived and "I have Android. I want to install Ubuntu.
I connected a computer with a type c cable. I was able to install ubuntu with the usb burning tool software. Unfortunately the kresceu did not go into upgrade mode even though I did not throw the sd card from the correct shape and tried different sd cards. I handled it very easily from the computer with the same technique.
NEW IMAGES for VIM3L Debian/Ubuntu V0.9.4-200928 mainline minimal variant
PS: installation time just 40 sec
Hello @hyphop, so I just tried the following:
Updated Kresque to the latest version
Fully erased EMMC via Kresque
Erased SPI flash - just in case
Installed VIM3L_Ubuntu-minimal-focal_Linux-5.9-rc2_arm64_SD-USB_V0.9.4-200928.img.xz
powered board off via Kresque menu
Removed SD card
PS: the same result with Debian image.
Error reading cluster !!!
its very strange - i will check why its can be happens

Hello @hyphop
I've flashed VIMx.UBOOT.mainline.emmc.kresq with Krescue. Now I can boot any Linux distros images from SD-USB without green or pink color issues regardless what kernel is used. But now I can't boot Android from eMMC.
I have latest release flashed from this image: VIM3.Android.Pie_V200624.emmc.kresq for my VIM3 Pro.
I'm sorry for my noob question but is there any way to make your mainline Uboot loading images not only from SD-USB but also from eMMC? If it is possible what I need to do?
Thank you for your fantastic work!
mainline uboot - can start from USB / SD / eMMC - for example try to install any ubuntu / debian images with mainline uboot and kernels
YES Android still use vendor uboot
Krescue system update 200930_388
changes
add wizard mode - easy installation way for novice
improved wifi setup gui
rebuild-ed menus
add some tools and scripts …
many other small changes …
https://dl.khadas.com/Firmware/Krescue/system/
NOTE: this folder have latest images only
NOTE: no need rewrite exist krescue system!! if your sbc connected to internet Krescue ask about update if it exist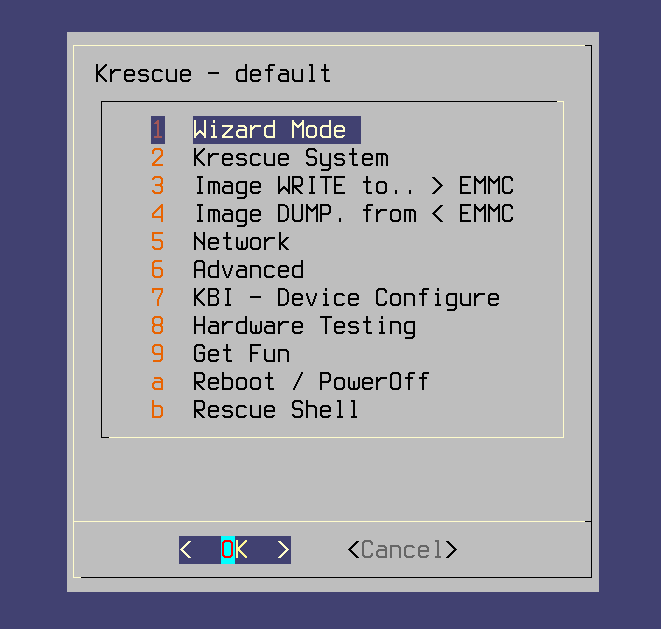 GOODLUCK