Hallo
I want to ask If vm3 pro will take update in eARC?
Thanks
Hi VIM3 not support HDMI eARC, but VIM3L support this feature.
Hi
But is hdmi 2.1 in the future it will update?
To support HDMI eARC, the SoC also have to support that feature.
A311D not support, but S905D3 support.
Ok but what did you write vm3 pro support hdmi 2.1?
I have bought for this reason
HDMI 2.1 spec support eARC but not means eARC is supported by all HDMI 2.1 device and the
VIM3 Pro does support HDMI 2.1

Does VIM3L match your requirement?
Yes it does march recruitment(vim3l) but i have already bought Vim3 pro
because my tTV and the amplifier support
eArc
Sorry for the inconvenience!
Can you tell me where you purchased your order? And you can try to contact the sales service to exchange to VIM3L, but you might need to bare the shipping cost.(Show the link to the person you will contact)
BTW, can you tell us the TV and Amplifier model you have?
Thanks for the support!
Good evening
Sorry for the delay



I bought the VIM3 pro from Poland because i live in Greece,the name of the store is Botland
Thank you very much for your support and for your offer,but i will keep VIM3 pro, because is more powerful than VIM3L even if it doesn't have eARC
I was expecting to get the upgrade
I will wait from your team something even powerful from VIM3 pro with eARC



Congratulations on your good work
My amplifier is Denon avc8500h
and my tv Samsung q950r
Thanks
hi, this is not about the software part, but about the hardware.
I also want to note, if you suddenly want vim3l, CoreELEC already stands there, there pass-through sound will be the best + your eARC, good luck!
Hi yes I understand that about hardware
I didn't say it ironically about something powerful from vim3 pro
I means for the future


What would you choose the VIM3PRO
OR VIM3L ?
I only see movies but only 4k and very large files 50-80GB
My amplifier is Denon avc8500h
and my tv Samsung q950r
I also want it to be compatible with content for 8k for the future

Yes, we are similar in this, I have Sony 55xf9005, though I do it using the modern method, torrents are online, therefore, I advise you to try CoreElec!
I don't have 8k. On CoreElec you can watch YouTube in 8k resolution right now!
I have already coreElec also me i do that with the same way with vim3 pro
so for that I bought this because it was hdmi 2.1
My question is
What would you choose the VIM3PRO
OR VIM3L ?
Because the vim3 pro has put that ram and CPU
yes, since both HDMI 2.1
I would choose both! put CoreElec on vim3l, and android on vim3 pro, and would make a server for torrserve on it

yes, since both HDMI Hdmi 2.1
Yes this is also written on the site that is hdmi 2.1 the Vm3 pro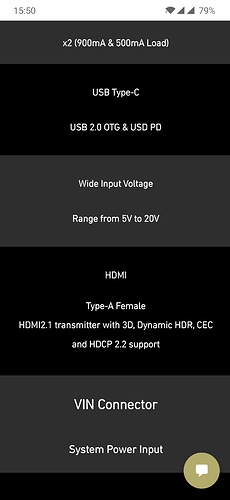 Sorry but vim3 pro it doesn't full Hdmi2.1
I know is about hardware but so why you write hdmi2.1
Some devise with hdmi 2.0b have been upgrade to eARC
You should write on site for Vm3 pro not support full HDMI 2.1
Not upgraded for eARC
So that we know what we are buying
I spent 180€ for your top product
and not support full hdmi 2.1
I'll risk assuming what else is processor dependent.
but I'll tell you so, on the official website of the khadas store, there are all the details on the specification
вот что я нашёл …
A311D
• Built-in HDMI 2.1 transmitter including both controller and PHY with CEC, Dynamic HDR and HDCP 2.2, 4Kx2K@60 max resolution output.
S305D3
● Built-in HDMI 2.1 transmitter including both controller and PHY supporting eARC,CEC, Dynamic HDR and HDCP 2.2, 4Kx2K@60 max resolution output