A Set of Heatsinks, maybe with another case (Top Plate) would also be nice

Will it be available this week, these are all temporary solutions?
Hi, Tommy:
Should be next week, as still one part of cooling fan set is not available:
High speed & Slim cooling Fan (Available)
Upper case (Available)
converter for VIM (Not yet)
Sorry for the long waiting.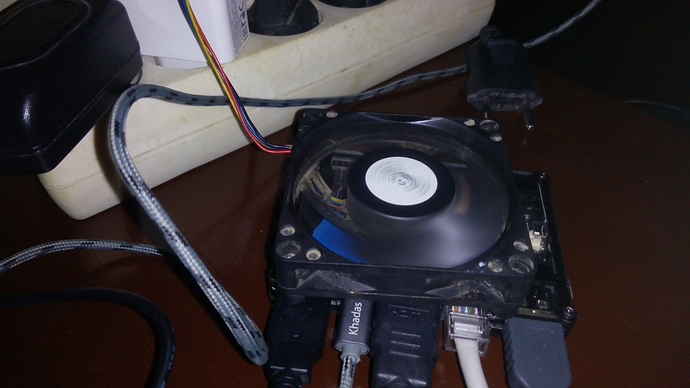 This is what i have done, temperatures are now mostly not over 45°C, only temperature issue is playing videos, it will get very hot when playing youtube video for a few minutes, yt is impossible to watch because of lagging.
You have the list includes the Converter. Can you clarify what is this element ? What is its purpose ? Is there any decision where and how to connect the fan on the PCB Board ? If You specify a port\settings GPIO (which can be used to connect and control the fan), then I can write scripts for automatic control of the fan.
Check Cooing Fan Assemble Guidance for details.
When we designed Khadas VIM, our team talked about is it necessary to add the control circuit for cooling fan, we final didn't design with it as we tested the temperature was not high when playing 4K videos on Android. It turned out we made a wrong decision, many users used VIM as Linux server which require more stable device with cooling fan for better heat spread.
So, currently, the cooling fan still can't be controlled by GPIO, except we design a new module with the power management and can be controlled by the GPIO then.
When cooling fan will be in stock again?
Available now

So the new top cover comes with fan? Cause I ordered my fan but didn't see that the top cover came with it . Is this sold separately somewhere else ? Thanks
So I got my fan in mail today now it's just a matter of figuring out where to connect . What 2 pins do I connect on the gpio ? 1&21? Thanks !!
Have a look here.
Looks like the guide shows the fan connected to pin 20(3V3(3.3volt)) and 40(Gnd).

User balbes150 has offered this solution to keep wires in the case. Use caution if done, handle gently.
Hi.
Having read various posts in the community one can not stop thinking that heating might be a problem. Also, there are some concerns regarding the noise levels of the fan accessory. Based on that, I had a look around and found the following potentially suitable fan: Sunon MF30060V2-1000U-A99. Have you given this one a thought and do you know if it would fit?
Thanks for your answer.
Hi,
Just my experience from the Khadas Fan, If you use the 3.3V the noise is bearable really not that bad. The 3.3V is also sufficient for cooling. I do not have heat sink and been using my VIM for at least 4-8 hours a day. My VIM actually stays quite cool (Bear in mind I measure by hand) will try and get some temp measurements.
Just my 2cents
Hi,
Where can i buy the heatsink showed in the pic above you posted? Thanks
Hi, Converted:
The heatsink I showed is not designed for VIMs, so we haven't got it on sale. Actually, it's easy find many different heatsinks:
You might interested in New case/housing for VIMs.
Enjoy!
Thanks:-) Where do i find the screwdriver for using the screws that comes with the fan?
Hello, Those are TA, tamper-resistant heads. These are often found in security bit kits.
I just use a flat blade jeweler's screwdriver. Very little torque will be required to tighten these fasteners. Usually I can just hold pressure against the head and turn the nut.
As always, use caution not to overtighten metal fasteners when used with plastic parts.
Edit: I should have just posted this link.