system info:vim3pro ,linux-mainline-5.17,load from SD card
After setup SPI,I found the wifi don't work,Check ifconfig find no wlan0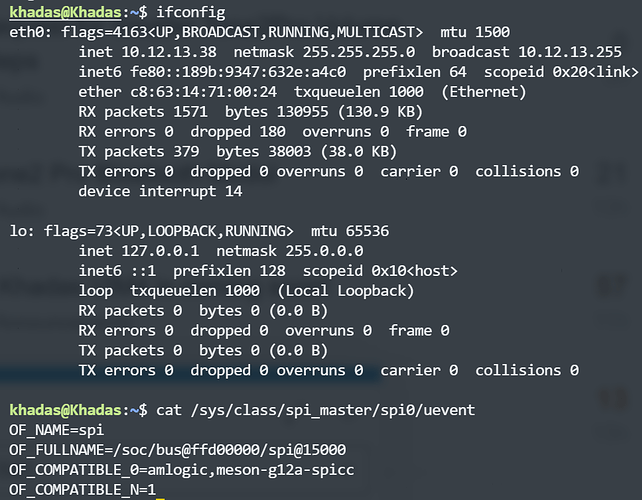 so,I try to edit DTS file in mainline linux in /fenix/build/linux-mainline-5.17/arch/arm64/boot/dts/amlogic
to disabled SPI.This time I don't want to make for a image and reburn it into my SD card.
The whole process took me almost an hour.After a few days of tossing and turning about SPI, I really can't stand it
In community,I find following steps:
1.edit dtb file
2.make kernel
3.find the Image file in /fenix/linux/arch/arm64/boot
4.rename to zImage
5.cpoy it to the /boot dir to replace on you board.
I did those steps.
And I also move the dtb file(meson-g12b-a311d-khadas-vim3.dtb) from /fenix/build/linux-mainline-5.17/arch/arm64/boot/dts/amlogic to
/boot/dts/amlogic/ and /boot/dts-5.17.0/amlogic/
I don't know which dts will effect,so I put dtb for both.
BUT,I try to disabled SPI, it doesn't work at all. Only I rebuild the image and reburn it into SD card.It changed,the SPI was disabled.
SO, How to make DTS work without building the whole image?Is it a problem with the use of mainline uboot and mainline kernels?