Hello guys,
Khadas VIM1: v1.2 1610
At first, tried Android Pie, downloaded from here, as it didn't work, tried other images, no sucess.
That's the first time I try to upgrade my Khadas, bought it from a friend and it came with Android TV 6.0.1 installed, after using it for a quite some time, started to get some connection issues, first with Netflix, then Twitch and many more. So, reading about it, I figured that I should upgrade the VIM to a Normal USER Android, I tried Android Pie, did all the steps as showed here and it never passed 4% Download Boot, it shows me lots of errors as the image I'll upload. I have the USB-C cable connected and USB-A to USB-A connected for power supply.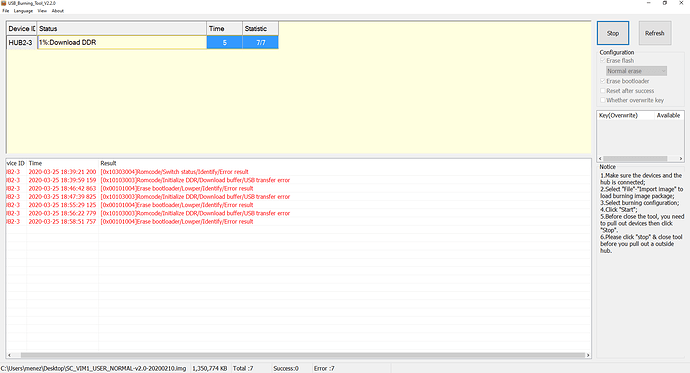 I only have tried the USB-C upgrade, haven't tried the TF Card upgrade, because my computer got no plug for TF Cards. Every time I connect the VIM to the Desktop, it shows up in the USB_Burning_Tool as Connect sucess. I just don't know how to make it burn sucessfully. Tried different USB ports on the Desktop, different cables but it just don't work
Hope you guys can help me. Any other information you guys may ask, I'm here to answer, if possible.
Thanks!