Kodi reports all the resolutions
2019-07-24 15:23:57.171 T:3502266736 DEBUG: CAndroidUtils: current mode: 12: 1920x1080@60.000004
2019-07-24 15:23:57.172 T:3502266736 DEBUG: CAndroidUtils: available mode: 1: 640x480@inf
2019-07-24 15:23:57.172 T:3502266736 DEBUG: CAndroidUtils: available mode: 2: 640x480@60.000004
2019-07-24 15:23:57.172 T:3502266736 DEBUG: CAndroidUtils: available mode: 3: 720x480@60.000004
2019-07-24 15:23:57.173 T:3502266736 DEBUG: CAndroidUtils: available mode: 4: 720x576@60.000004
2019-07-24 15:23:57.173 T:3502266736 DEBUG: CAndroidUtils: available mode: 5: 720x576@50.000000
2019-07-24 15:23:57.173 T:3502266736 DEBUG: CAndroidUtils: available mode: 6: 800x600@50.000000
2019-07-24 15:23:57.173 T:3502266736 DEBUG: CAndroidUtils: available mode: 7: 1024x768@60.000004
2019-07-24 15:23:57.174 T:3502266736 DEBUG: CAndroidUtils: available mode: 8: 1280x720@60.000004
2019-07-24 15:23:57.174 T:3502266736 DEBUG: CAndroidUtils: available mode: 9: 1360x768@60.000004
2019-07-24 15:23:57.174 T:3502266736 DEBUG: CAndroidUtils: available mode: 10: 1280x960@60.000004
2019-07-24 15:23:57.174 T:3502266736 DEBUG: CAndroidUtils: available mode: 11: 1280x1024@60.000004
2019-07-24 15:23:57.174 T:3502266736 DEBUG: CAndroidUtils: available mode: 12: 1920x1080@60.000004
2019-07-24 15:23:57.174 T:3502266736 DEBUG: CAndroidUtils: available mode: 13: 1920x1080@24.000000
2019-07-24 15:23:57.175 T:3502266736 DEBUG: CAndroidUtils: available mode: 14: 1920x1080@25.000000
2019-07-24 15:23:57.175 T:3502266736 DEBUG: CAndroidUtils: available mode: 15: 1920x1080@30.000000
2019-07-24 15:23:57.175 T:3502266736 DEBUG: CAndroidUtils: available mode: 16: 1920x1080@50.000000
2019-07-24 15:23:57.175 T:3502266736 DEBUG: CAndroidUtils: maximum/current resolution: 1920x1080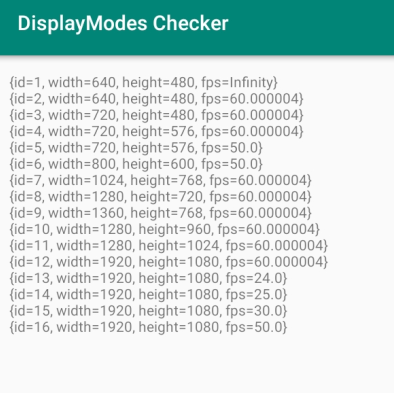 Is there a way to disable
640x480, 1024x768 ones in the kernel?
Since it will cause problems for users setting Kodi's whitelist that may enable those rates even if their tv doesn't support it since they are PC resolutions not suitable for 1080p/4K tv's.
Also is there a way to enable frac clocks, fractional frequencies correctly like 1920x1080x23.976hz?
I have it displayed in TvSettings - Display - HDMI correctly but the Android system doesn't report these fractional frequencies correctly ones like
1920x1080@23.976
1920x1080@29.970
1920x1080@59.980
are missing from being detected by by the system, SurfaceFlinger.
I will post output of /d/clk/clk_summary later of device that supports fractional frequencies and Khadas Edge that doesn't support it correctly.
Please see attached for logcat, dmesg, Kodi log and SurfaceFlinger log.
https://mega.nz/#!wQsVlSzR!UwqqcPW7gIHfkm7Q2W7K39_GLE1Mz5hW3E4Eym7xJmc
To check the resolutions available that are exposed to Android run
dumpsys SurfaceFlinger
To check clk output run
cat /d/clk/clk_summary