I will arrange the new shipment to you after the label deliver to our warehouse.
thank you.
I did not buy from the official store
Thanks, and please update me
hello
I ordered the diy box red, what is the metal plate used, it is optional
thank you
Only Transparent color have optional without metal plate as the lower price solution for users.
The metal palte is designed with heavy count, and with CNC process, so the cost is quite high. If you want a better feeling, you can buy with it.
have fun!
hello
I ordered a red, so she is with.
must I order the metal plat or it is with diy case red.
if my order is not gone, I can buy it and add it to the rest of the order of July 27th.
Yes, red color already with metal plate.
Hi @Gouwa,
transparent color case is without metal plate but can metal plate be inserted in it?
Is it possible tu purchase metal plate only for transparent case?
S.
Hello, Am I correct in assuming on this page, that of the case options, first three, clear, red, purple come with metal plate. Fourth option is clear case without metal plate?
Yes, exactly

Seems it's coufused, we've just updated the information: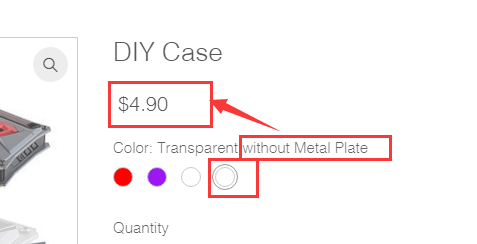 why the case is not on gearbest available?
Hello, Gearbest is now on uploading process, thank you for your interest.
thanks for your reply.
Can you tell when it will be available on Gearbest. couple of days or 1-2 weeks?
Check Khadas YouTube Channel for installation guidance:
Pas eu besoin de la vidéo, il est monté comme indiqué