and bandwidth? :подмигивать:
Updated 1º post with V2…
Enjoy!
Dear superceleron, thanks for the firmware! I want to ask, where in the settings can I turn off noise reduction? Thank you very much!
Not right now, i add it in the future update!
The only way to change it is edit build.prop and change persist.sys.noise_reduction=1 to 0.
I think "1" is a good compromise between the videos that dont need it and videos that need it!
thank! as for me, turn it off completely so as not to blur the picture, because if the TV can do it

thank you for the work!
Ye very true, must tvs now can do it!

Dear superceleron! Thank you very much for the updated firmware! When can we wait for twrp? It will be very cool to have twrp for your firmware! Thank!
TWRP dont save you … if you want to flash magisk
i have it working already, but magisk is broken since it flashes ok no errors but flashes to the wrong place, to boot.img and since boot img in amlogic pie is not used anymore as boot disk now only contains the kernel nothing else, so that is why it wont work!
Magisk guys need to fix it or figure it out… something like that!
you have su in shell, just grab the build.prop in vendor (ye not system) partition then edit in your PC ( be sure its in unix format )
then theirs a lot of instructions in the web how to push files to devices by adb.
Anyway i will make a small ota just to disable that, if you can wait…
Hi! Thanks for awesome Android build, but Notification bar doesn't work properly, it absolutely doesn't response to taps.
Hello! VIM3 Pro performance tests on the updated firmware! It was cool!
AnTuTu 7.2.3

Stress test AnTuTu
Geekbenh 4.4
https://browser.geekbench.com/v4/cpu/14605622
3dmark 2.0.4
PCMark for Android 2.0.3
TensorFlow PCMark
The temperature on the updated firmware is no more than 60 degrees Celsius without a cooler, the processor began to work more smoothly and thoughtfully, but we lost the speed of calculations, about 15%.But we got excellent system stability! Great job superceleron!
yes i know that, is because i disable taps on it!
Hello friends! Set up Square Home, all multimedia works great! My home screen on VIM 3 about firmware Superceleron v2!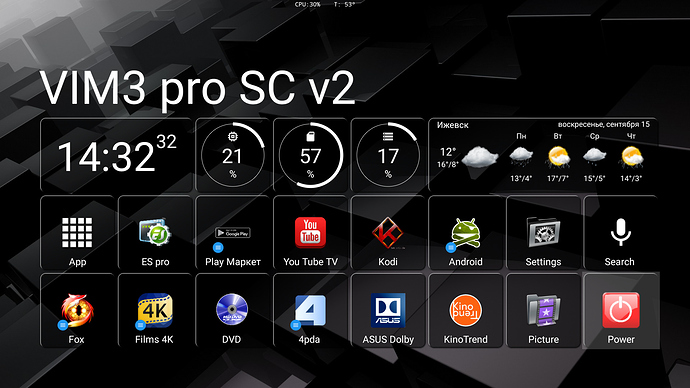 superceleron, a review of your firmware!


Could you backup your setup/layout for Square Home if you can
Post the File I like the Layout you have used…Thanks
Thanks for that, will have a look a bit later
Hi guys! I uploaded a video of testing KODI 18.4 on Supercelleron v2 firmware. We tested playing 4K video, 8K streaming from YouTube and playing local videos from an external USB 3.0 hard drive. The system on this firmware works great and fast! It was cool!

Nice,
I would like to know which theme is this as I see it in the description but not able to find it, can you share the link please?
Also what are the add-on you have used for browsing the movies and other content. Please PM me
Thanks for the video.