Hello everybody!
I had problem with my Khadas pro player, it was temperature related. Under KODI or Ubuntu, or game for example, the temperature reached 84-85 degrees Celsius. That was too hot, and the player started to throttling. It was unstable and unusable at that point. Then I started to looking across forums, internet portals and blogs and noticed that some guys put passive heatsinks to their player. When I put only heatsinks on the chips ant put player top back, temperature has increased very quickly. It was close to 80 degrees.That gave me an idea to make a new acrylic top, but with holes for cooling. So the hot air from the heatsinks could get out really quickly and cool down the player.
Then I made new drawings in autocad and order new top at the local firm. I have made a hole for the hot air.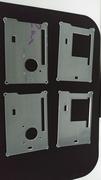 I have install passive Arctic heatsinks on top of the s905x chip and memory.