I bought it from the Khadas shop/website. It came from El Monte, CA. 93171
OK - my email went through.
Hi charmerci,
i just get your ToneBoard today, and do a simple check,it works fine at so far, not meet your problem.
i want to know more details about your playback environment.
do you connect a USB Hub to connect ToneBoard?
which system and music player you use? (i test on windows 10, foobar2000v1.4.6)
have you every install xTIMEcomposer-Community_14 and Thesycon-Stereo-USB-Audio-Driver-V224?
thank's for your help,i will do more test to find out why.
Windows 10 and JRiver 25. I did also have it attached to an Audioquest Jitterbug. It's been a while but I'm pretty sure that I tried it without the Jitterb. As I said, it worked ( turning it on and off for several days) before it suddenly stopped.
Hi charmerci
I've been listening for a week, but I haven't met the situation you said yet. Our colleague has already sent a new one to you by express delivery. We are still testing your one to find out the problem.
I received the replacement today.
It played 12 and half songs and suddenly the music stopped. So I stopped the song on JRiver 25 (did you try to play music back using JR 25?), when I tried to play a song again, it said 'the output was incompatible with 44Khz 2 channel output. Something could be wrong with the hardware compatibility. Please check output using DSP Output." I tried to change some settings in various ways and nothing worked.
So I unplugged it, reattached my other DAC, played music through that, then replugged the Toneboard back in and it started playing again!
A few more songs, then it stopped again. Same thing. Replugged the old DAC and back to the Toneboard and it's playing again.
I think that somehow, sometime in the future, this thing is going to stop again. Stay tuned!
I know @kenny uses his Foobar2000. If you want to try it, I can send it along.
Jriver is working for now. If it stops again, I can download foobar - though I might have it already.
I tested J-River for a time when the license hadn't expired yet, I'm using the Mac version and it ran well. The situation I ran into was if the USB-C cable was loose, and I accidentally jiggled it, the "momentary disconnect" would stop the music playing.
@charmerci to get Foobar playing DSD, you have to install some plugins. It is a bit challenging.
I don't use DSD and it wasn't a loose cable. I check these things. I have been into high end audio for 40 years. Sometimes though it would stop playing after a slight static electrical shock on the laptop or system as the laptop rests on top of my pre-amp. But does that explain why it wouldn't work after rebooting the whole system while staying grounded the whole time?
Hi charmerci
The one you sent back has been put on my side for testing. It has been playing for 2 weeks. At present, haven't meet your situation . PCM and DSD audio have been tested.I still use it to listen to songs.
I think the program maybe need to be adjusted. It may be the installed driver, or it may be the playback software.
please try:
Uninstall xTIMEcomposer-Community if you have been installed

Uninstall the XMOS driver and reinstall it again. (Maybe you have a different version)

please use foobar2000 to check out whether the problem is caused by the player.
download
If it is convenient, please send me the playback software Installation package you use and tell me your software settings.
hope that could help.
It most likely would be that as this ToneBoard didn't play again last night played directly from my laptop.
And today, it played again!
This is just really weird.
have you try this and test again?
Not yet but I don't know where to find it. Is it in foobar or is that located in Windows setting somewhere?
Hi charmerci
xTIMEcomposer-Community is a software. if you have installed, it will be in your windows
Thesycon-Stereo-USB-Audio-Driver-v224 is a driver of XMOS which in your windows. you said you have been into high end audio for a long time, maybe you have install another version. you can find our version from here
besides:
if you don't know how to find them, you can use geek.exe software to check it. It's very convenient for me.
download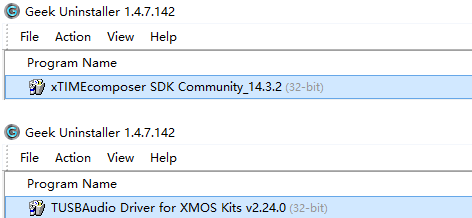 Yes, high end audio - but this is computer software!

I keep plugging my old DAC in and it keeps working fine. I've been busy so I haven't really had much time for this and I'll be going on vacation tonight.
I may or may not get back to this in about 2 weeks.
So I played foobar2000 and after one minute the sound just cut out AGAIN!!!
I did the Geek Uninstaller and neither of those two above programs are there.
What next???
It may or may not be a power supply issue. If you want to send me something else, otherwise, I'd just prefer to return this. I haven't bothered using it again.