Finally work, I "copy to my yandex" and now works!
Happy new year!
Do not upgrade to version from 20171221.
The problem with the speed of Wi-Fi at 5G, and possibly 2.4G - did not test.
Data transmission is limited in range of 2.84-22.4 Mbit/s.
IPTV is slow, movies are buffered.
Who has already updated, can perform downgrade to 17.6_20171120.
Khadas Vim Pro
Im having problem where setting stereo upmix causes noise distortion to audio playback. I have audio passthrough capable avr with 7.1. When i set stereo upmix, audio playback will have noises.
Did anyone know how ot enable stereo upmix without introducing noises?
Проверь образ Kszaq, есть ли там такая же проблема. Если нет, я буду разбираться со сборкой.
I've upgraded, it seems that Wi-Fi is slow as you mentioned.
When will be the next upgrade?
Постараюсь до 09.01 проверить. Забыл ранее написать, что на версии прошивки от 20171221, скорость скачет волнообразно, с постоянной частотой и амплитудой. Как волны на осциллографе. В остальном прошивка рабочая.
You can install firmware 20171120. It works flawlessly.
Gathered new images 20180106 for KVIM (S905X).
My VIM is still busy with the compiling process, the request to check work WiFi at VIM1.
Do I understand correctly : are you building LE natively on Khadas?
Sorry, I don't understand the question.
I mean:
Do you natively build LE on arm64 Khadas itself, or, do you cross build LE on an Intel or AMD Linux box. I always cross build LE (64bit version of kszaq git) on AMD Ubuntu Linux.
But you write "My VIM is still busy with the compiling process", so I wondered if you build on arm64 Khadas itself.
Have a nice day
The Assembly is on a PC using crosscompilation. I meant that you can't test the new image LE really VIM1.

update image 20180106 KVIM2 (S912)
Wi-Fi works fine. The speed did not drop below 48 Mbit/s. On the average, it keeps around 72 Mbit/s.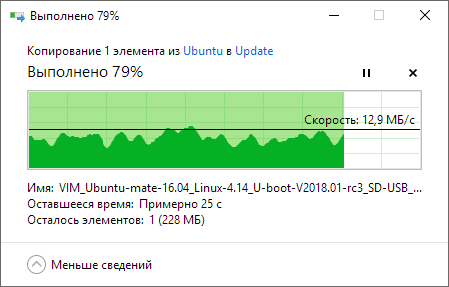 Khadas Vim Pro - Wi-Fi 5G
Brilliant!
Thank you very much for the quick upgrade!
Most of the time, I find the speed problem is due to the embedded SMB of Kodi. If I mount the SMB via Linux, it works better.
However, DLNA yields the best performance via WiFi. VIM can play 1080p remux without issue, and some times it even can play 4K remux files smoothly.
Have you tried the settings in KODI to replace the "minimum connection SMB2" on both SMB1 ?
The best performance i got is with connecting smb trough linux but for compatibility reasons adding smb1 like below example:
mount -t "cifs" -r //$SERVER_IP/$SERVER_DIR_TVSHOWS $DIR_TVSHOWS -o username=$USER,password=$PASS,vers=1.0
Anyway i still have trouble to get in Kodi 17 cifs browser to work properly, so i still use smb.conf and cron tab to check if the shares are there or not and to execute smb script if mounts are not available.
Can you also provide an EMMC S912 build for 3in1 usage?
Also, can you perhaps lay tags on your github repository for images you provide?
Thanks for all the great work!
The last working version = latest commit in GIT. I don't do intermediate commits, except for correcting errors. To build a version for eMMC - you need to use the corresponding project (DEVICE=S912_EMMC).
Thanks, the build (yesterday) went fine and produced LibreELEC-S912_EMMC.arm-17.6_20171221 … I am trying again today as I see you updated git. This time it will be LibreELEC-S912_EMMC.arm-17.6_20180106.