The VTV tuner should be in the options.
For a correct assessment of the needs of the size of the eMMC , it is desirable to specify the sum, which will increase the base price VIM3 compared to places without eMMC. Then many people will think how much they need this size of eMMC (when they find out how much the price for the end device changes significantly).

vTV/DVB is not available on VIM3 as all the TSIN() PINs of the SoC are occupied by:
Gigabit Ethernet:
Wi-Fi & Bluetooth PCM Audio: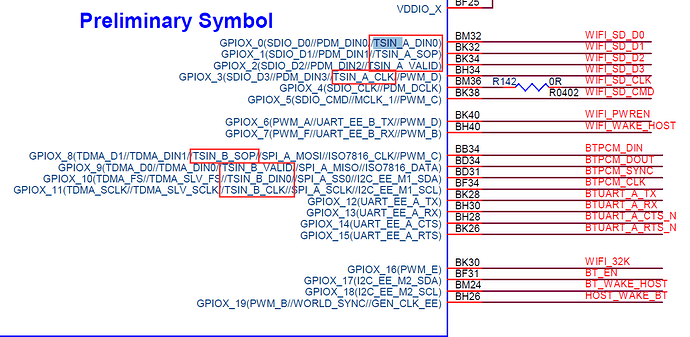 And the last one pinmux-able TSIN IO are used for some different functions due to very limited GPIO of the SoC:
LCD Screen Panel
Power Button
USB-C CC chip
GSensor

Anyway, thanks for suggestions.
Have fun!
vtv card and important world apart.
There are thousands of people who do not know about Khada and will know soon enough.
And they will have the option to replace their box with sbc with vtv.
This vtv option can not be out in any way.
There is a giant vtv tuner market that we should not leave out.
A user did not like this noticia.Pedi even a little patience.

Thank you.
This is fantastic news! Did not see that comming! You can count me as a buyer!
Greetings, T
Gouwa wrote this in another topic:
But for VIM3, the USB is routed to the M.2 Slot as we add a USB Hub and more USB interface there.
Does this mean that the M.2 is B+M-key? Is there a SIM slot?
Will it be possible to use the Edge-V Juice Board? Or does it require an integrated circuit like the RK808?
Nope.
Nope, VIM3 designed with independent DC-DC. Will release the Schematic when V11 Revision is ready.
It's M-Key for NVMe SSD soldered on VIM3 PCB board, but still can design a converter module with SIM card.
Good day!
exactly true. more gpio for more hardware. so we cant use vtv board with vim3. odroid n2 no wifi, no extra hardware and gpio pins by chance by tsin pins. If some hardware remove. vtv can work. Maybe vim3 dvb version (s922d 4gb ram 2 60 pin gpio etc). also have the same problem k2 pro tsi b gpio pin use wifi chip. some amlogic devices such as wifi are connected to motherboard as usb protocol. K1 pro used tsin_b gpio external ethernet chip
Will there be a good OEM-able case that is fully enclosed and allows for our own logos?
Wow, amazing fast! Thanks, Chewitt & LE Team!
PS: The model is VIM3 Pro

Good day!
Congratulations on your good work. Do you already have a VIM3 sample for testing ?

Hi Everyone!
I've updated the top-post with contents for today's #VIM3 launch update!
Fresh Content:
VIM3 Comparison Table (Edge-V, Odroid-N2): Download PDF
VIM3 4K Photographs: Bottom
Social Sharing Images (Bottom): 720P - 1080P - 4K
LibreELEC on VIM3 Pro: Photograph by @chewitt
Supported ROMs (work-in-progress):
Android 9 (Pie)
Ubuntu XFCE 18.04
LibreELEC (Kodi GBM + Linux 5.1), thanks @chewitt
Description of the #VIM3 Underside:
MIPI-CSI:
4-lane MIPI-CSI with two clocks

For a single camera configuration, lanes D0-D3 are paired with CLKA
For two camera configuration, lanes D0-D1 are paired with CLKA and lanes D2-D3 are paired with CLKB

PINOUT compatible with Edge-V
MIPI-DSI:
4-lane MIPI-DSI, resolution up to 1920*1080
PINOUT compatible with Edge-V
M.2 Connector:
M-Key M.2 Connector
1-lane PCIe 2.0, USB 2.0, 8-Ch I2S, I2C, 100-Mbit Ethernet, GPIO
Next Week's Teaser:
When writing your blog update, do help us out by asking people to vote for #VIM3 features. @Gouwa is curious to know if we should make a VIM3 model without an EMMC (just a TF-Card slot) and maybe even without a Wi-Fi / BT module.
The #VIM3 launch-update newsletter will be sent out around 9 to 10PM, Monday (today), GMT +8. We would be appreciative, if you can schedule any #VIM3 blog updates around that time too.

Warmly,
You Jun
Khadas Team
A side note. You are asking people to vote for #VIM3 features in your email however voting is not available for new users here☹️.
Voting has been re-opened. Thank you for pointing it out @igor_kh!
LCD Screen Panel or G Sensor may not be one.Can VTV tuners be used instead?
Fantastic!! That is something that I was really not prepared to come! but still fantastic!
Well the PoE option is veeeery welcoming, I think this has to be the next thing implemented in the use. Even if there is no interested I think a lot of people don't know what it is, and how can be used, but for me - network guide, I will do anything to have PoE!
Please do rethink about it even if the poll does not show this, or we can open another thread to represent the benefits of PoE!
What do you guys think?
POE can be good for its needs
I recall adapters/power injectors are not to expensive nowadays.