Massively looking forward to getting my hands on one of these!
I am anxious and excited about Khadas I want to know the other models that will be released. with S922X
Well there will be 3 models, as I have seen with the same processor.
I think problems of high temperature instability locks will end, will be resolved with the Khada SBC boards.
I think it's time to change the toy.
Certainly whoever waited will not regret it.
Congratulations to all staff, Great job.
Yeah,I think it's time I changed the toy.I already bought VTV tuners.
I've updated the #VIM3 compatible accessories to clear things up for some folks.

Compatible Accessories :
New VIM Heatsink
3705 Cooling Fan
Khadas Tone Board
DIY Case
Metal Plate
IR-Remote
Multi-Touch LCD
USB-C (male-to-male) Cable
USB-C 24W Adapter (with USB PD)
HDMI 2.0 Cable
USB-C (2.0 to C) Cable
M.2x Converter (PoE, +1 Ethernet, 4G, SSD, GPIO in one extension board)
They wrote that I could use a VTV tuner.
"Khadas.com sent you a new message"
sure ,they can work together.
Sorry about that, she thought you were talking about the VIM2. The VIM3 can't use the VTV Tuner, only the VIM2 can.
have you got any information on the power draw at 5v compared to 20v, or more exactly what is the optimum voltage to supply the VIM3 with? Im assuming 5v as there is less step down to do to get to the voltages for the CPU etc?
5V voltage work for VIM3.
Yep, it's right in theory, but should be not much different with 20V as we design with a high efficiency DC-DC:

Good day!
Thanks @Gouwa. Exactly the info i was after! Assuming we are looking at somewhere in the range of 1-1.2A for the board under load? Just looking at end to end power supply efficiency as the range of power supplies i use has better efficiency 12v models than 5v - so might well be better to go 12v in my new application. Thanks!
@Gouwa Maybe it is worth creating a survey of users, which option of RAM\eMMC size will be in demand ? I vote for options 2\16 and 4\16. If you have high-speed USB 3 and M2 ports (through which you can connect any desired amount of data for the user) to accommodate all variants of the OS is enough 16 GB.

Vote for your #VIM3 features below, we're appreciative of any feedback, and we will take everyone's (reasonable) opinions into consideration:
Choose your favourite RAM size:
Choose your favourite EMMC size:
An EMMC must be included in #VIM3:
Yes, I need EMMC storage
No, I can boot everything from a TF-Card
WiFi and Bluetooth must be included in #VIM3:
Yes, I need WiFi and Bluetooth in

#VIM3

No, I'm cool with just Gigabit Ethernet
The VTV Satellite Tuner must be compatible with VIM3:
Yes, I need the VTV Tuner
No, I don't watch Satellite TV
The PoE-module is a must-have VIM3 add-on:
Oh yes, Power-over-Ethernet rocks my socks.
Nah, I'm fine with 5-20V USB PD.
Should Khadas do a Kickstarter for the VIM3?
Yes, I think Kickstarter is great, the publicity will help.
No, I'd much rather buy/pre-order from Khadas Shop.
The VTV tuner should be in the options.
For a correct assessment of the needs of the size of the eMMC , it is desirable to specify the sum, which will increase the base price VIM3 compared to places without eMMC. Then many people will think how much they need this size of eMMC (when they find out how much the price for the end device changes significantly).

vTV/DVB is not available on VIM3 as all the TSIN() PINs of the SoC are occupied by:
Gigabit Ethernet:
Wi-Fi & Bluetooth PCM Audio: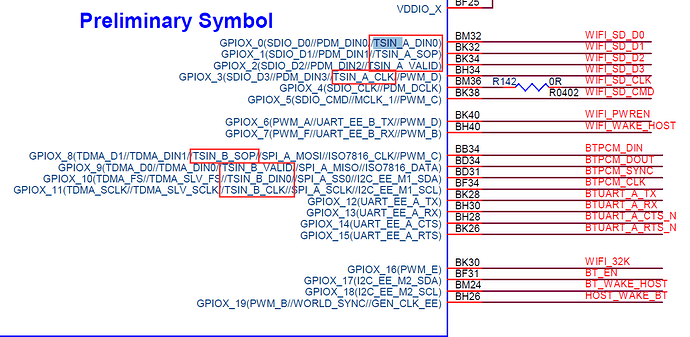 And the last one pinmux-able TSIN IO are used for some different functions due to very limited GPIO of the SoC:
LCD Screen Panel
Power Button
USB-C CC chip
GSensor

Anyway, thanks for suggestions.
Have fun!
vtv card and important world apart.
There are thousands of people who do not know about Khada and will know soon enough.
And they will have the option to replace their box with sbc with vtv.
This vtv option can not be out in any way.
There is a giant vtv tuner market that we should not leave out.
A user did not like this noticia.Pedi even a little patience.

Thank you.
This is fantastic news! Did not see that comming! You can count me as a buyer!
Greetings, T
Gouwa wrote this in another topic:
But for VIM3, the USB is routed to the M.2 Slot as we add a USB Hub and more USB interface there.
Does this mean that the M.2 is B+M-key? Is there a SIM slot?
Will it be possible to use the Edge-V Juice Board? Or does it require an integrated circuit like the RK808?
Nope.
Nope, VIM3 designed with independent DC-DC. Will release the Schematic when V11 Revision is ready.
It's M-Key for NVMe SSD soldered on VIM3 PCB board, but still can design a converter module with SIM card.
Good day!
exactly true. more gpio for more hardware. so we cant use vtv board with vim3. odroid n2 no wifi, no extra hardware and gpio pins by chance by tsin pins. If some hardware remove. vtv can work. Maybe vim3 dvb version (s922d 4gb ram 2 60 pin gpio etc). also have the same problem k2 pro tsi b gpio pin use wifi chip. some amlogic devices such as wifi are connected to motherboard as usb protocol. K1 pro used tsin_b gpio external ethernet chip