I have a display I can connect to using GPIO pins 25/26 (i2c1) but I cannot use i2c0 pins 22/23 to connect to the same display. I'm on the latest Ubuntu V1.0.5-210430 on VIM2. Help please?
/boot/env.txt


gpio readall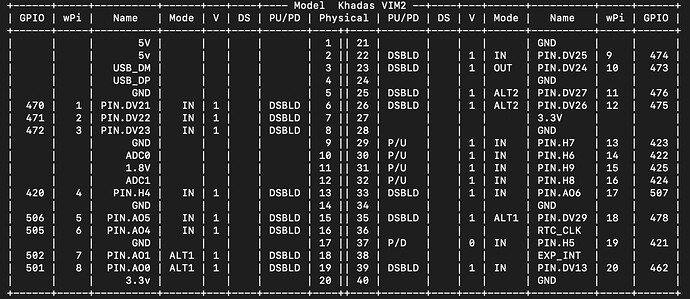 I noticed that pins 22/23 are not configured for ALT4(?) - which the working i2c(i2c1) bus is? I tried a gpio mode 22 ALTx but got a warn : (pinModeAlt):THis function is not supported by KHADAS Board..
I want to access I2C0 because it is passed through the Tone board and into the OLED FPC connector. Has anyone successfully managed to use this bus?
dmseg:
sudo dmesg | grep i2c
[    1.375747] i2c /dev entries driver
[    2.303491] meson-gxl-pinctrl pinctrl@4b0: pin GPIODV_24 already requested by c1108500.i2c; cannot claim for d0042000.snd_dmic